Clarify is an outstanding app that covers 670 different bi-and monolingual dictionaries. It lets you have access to 30 languages in one single app. Also, the dictionaries are from most trusted partners such as Collins, KDictionaires and more.
How to Use Clarify App?
Well, it's easy to use this app. All you need is just the app and a mobile connection or Wi-Fi and it lets you have quick and easy access to the dictionaries and languages that you prefer. The app, Clarify, covers languages like Arabic, Bengali, Chinese, Croatian, Czech, Danish, Dutch, English, Finnish, French, German, Greek, Hindi, Italian, Japanese, Korean, Malayalam, Norwegian, Polish, Portuguese, Russian, Spanish, Swedish, Tamil, Thai, Turkish and Vietnamese.
[leaderad]
When you register with the app, you are given the choice to select your preferred language and this will be the First Language. You can also add languages you which to search within Language Interests. You can always change these settings under "Account Settings'. When you search, just type the world and the app will automatically displays the meaning within your selected languages.
What the users say about clarify:
Very well designed app and useful for a quick multilingual search!
By Safia
Wow , this app is awesome Now I can look up a word and its corresponding meaning in different languages and from a wide variety of dictionaries (requires internet and a free account). One suggestion: after a word's meaning pops up in a list the keyboard should be hidden from the screen.
By Ravi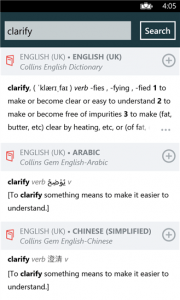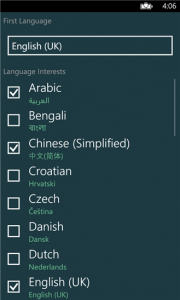 Noteworthy Features
Reliable app
This free app by Clarify Ltd brings to you dictionaries in 30 languages from the trusted partners. You can rely on this app for all your needs.
Easy to use
The app, Clarify, is fairly easy to use. You just need to select your preferred language along with other languages you wish to search within and then the results will be displayed accordingly.
An ultimate language tool
Clarify supports 30 languages and all languages are linked in a complex matrix. This results in making it an efficient language tool.
Pros
Well designed app
Easy to use
Excellent accuracy
Fantastic layout
Cons
No offline dictionary reader
Some Useful Insights About Clarify:
Cost: Free
Ratings: 4.5 out of 5 stars
Publisher: Clarify Ltd.
Download Size: 2 MB
Works with: Windows Phone 8 and up
Wrapping Up
So, what have you been waiting for? Download this free app today and enjoy the reliable language service offered by the company. Give it a try, and let us know how you like it in the comments section below.