Blitz Brigade by Gameloft is a super-popular, team based first-person shooter. At the start, the user is dropped into main menu and he can decide between playing the game or through the detailed tutorial. You need to complete several objectives like defeating waves of enemies, piloting a helicopter, mowing down potential escapees and more. You will earn stars for your performance and they are required to unlock the next levels.
[leaderad]
In Blitz Brigade, there are two game types: Deathmatch and Domination. Deathmatch is a traditional kill to win mode while Domination requires team to keep control of their territories both modes are fun to play and come with their own challenges and exciting features. There are more than 100 weapons to choose from including personalized character. The arena-style taunting and kill phrases are amazing and the voice chat offers improved teamplay. Blitz Brigade offers 120 unique missions to complete, thus appealing to every shooter whether experienced or novice. The game will aid you in mastering your shooting skills.
Noteworthy Features
Lot many weapon choices
When it comes to choosing weapons and vehicles, Blitz Brigade offers you a fairly good number of choices. You can shoot up enemies and vehicles with over 100 weapons such as machines guns, rifles, and more.
Connect to social networks
Blitz Brigade allows you to connect to social networks like Facebook and Gameloft live to add friends and join multiplayer game. The game also supports voice chat in team-based combats.
Free and amazing
It is the most epic game ever. This addictive game is just awesome. In addition to amazing graphics, the game appeals to most users. The storyline is powerful and playing Blitz Brigade is really good and fun.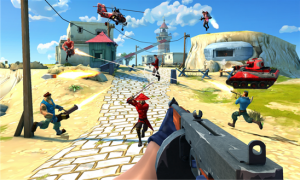 >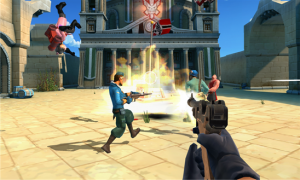 Pros
Runs smoothly
Amazing touch screen controls
Superb gameplay
Good soundtrack
Nice graphics
Cons:
Lack of game modes
Limited selection of weapons
Some Useful Insights about Blitz Brigade:
Cost: Free
Ratings: 3.5 out of 5 stars
Publisher: Gameloft
Download Size: 660 MB
Works with: Windows Phone 8 and up
The Final Words
All in all, Blitz Brigade offers an enjoyable experience in team-based FPS gameplay. It has almost all elements that are needed to be a great multiplayer FPS. The game plays great and has a fair number of unlockables to keep you motivated. This game is worth downloading and is available for free at Windows Phone Store. Let us know you find the game in the comments.