Meet Amazon Family Vault
If you an Amazon Prime member, here's another added advantage for you. The U.S Prime member can make use of a new service called 'Family Vault.' Amazon Family Vault offers unlimited photo storage to five family members at no additional costs. The new Prime Photos service is designed for Prime members and their family.
Amazon Prime members can invite five family members or friends to join Family Vault. In addition to providing access to unlimited storage of photos, it also offers additional 5GB for videos and other files. The new Amazon Family Vault offers a quick and easy way to bring family photos together. One can start using the features by going to http://www.amazon.com/photos or via Prime Photos mobile apps.
"Prime members love the benefit of unlimited photo storage but often struggle to collect and organize photos across multiple devices and accounts into a single, shareable archive," said David Nenke, Director of Prime Photos, Amazon. "We launched the Family Vault to make it easy for family members to safely store and share all their favorite moments."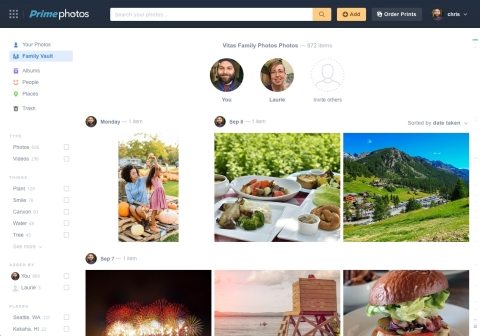 Features of Amazon Family Vault
Unlimited Photo Storage
The most significant feature is undoubtedly the access to unlimited photo storage. It makes it easy to have great memories and moments preserved.
Save and Private Sharing
Amazon Family Vault members can add their favorite pictures individually or can also set it to automatically add photos and videos.
Utilizes Smart Search Technology
This new smart search technology makes finding pictures based on people, places or things easier than ever. You need not to browse through the whole album to find a specific image. You can just search for it like "wedding" and all relevant pictures will come up.
Photo Printing
The Amazon Prime members can order photo books, cards and prints from their Prime Photos account. The prints start at just 9 cents and come with free shipping.
Do you like Amazon Family Vault which offers an easier way to keep track of your memories? Let us know your thoughts in the comments.