Meet New Samsung UFS Memory Cards
MicroSD cards are small, convenient removable storage cards that are used with smartphones, tablets, cameras and many more devices. Samsung has now come up with next-gen removable memory cards that are about 5 times faster. These new Samsung UFS memory cards offer read/write speeds that you would have expected from high-end SSDs. The UFS cards are based on the Universal Flash Storage 1.0 Card Extension standard and come in capacities from 32GB to 256GB.
"Our new 256GB UFS card will provide an ideal user experience for digitally-minded consumers and lead the industry in establishing the most competitive memory card solution," said Jung-bae Lee, senior vice president, Memory Product Planning & Application Engineering, Samsung Electronics "By launching our new high-capacity, high-performance UFS card line-up, we are changing the growth paradigm of the memory card market to prioritize performance and user convenience above all."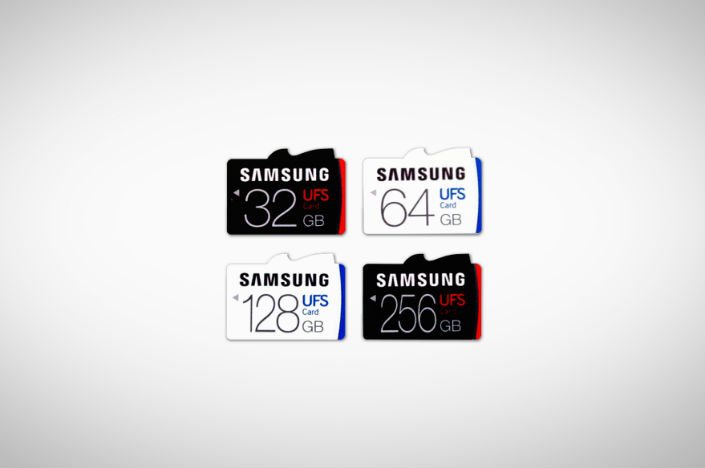 Amazing Read and Write Speeds
With UFS memory cards, users will be able to read 5GB of date or a full-resolution movie file in just 10 seconds. A UHS-1 microSD card would take 50 seconds to do the same. At a random read rate of 40,000 IOPS, the 256GB card delivers over 20 times higher random read performance when compared to a typical microSD card. In terms of writing, the new 256GB UFS card processes 35,000 random IOPS which is 350 times higher than the 100 IOPs of a typical microSD card.
It is capable of delivering more than five times faster sequential read performance when compared to a typical microSD card, reading sequentially at 530 megabytes per second which is similar to sequential read speed of most widely popular SATA SSDs.
Enhanced User Experience
UFS memory cards will provide greatly improved user experiences especially in high-resolution 3D gaming and high-resolution movie playback. Samsung says that you can use the card to continuously shoot 24 JPEG pictures with file sizes of 1,120 MB in about 7 seconds or can read an entire 5GB full-HD movie in 10 seconds.
Performance Specs
So, in 256GB capacity, these are the performance specs of UFS memory cards:
530 MB/s sequential read speeds
170 MB/s sequential write speed
40,000 IOPS random read rate
35,000 IOPS random write rate
Samsung is the first company to announce removable UFS memory cards. It is still remains to see what kind of devices will actually be able to use the new cards.
No Gadgets Available
The Samsung UFS memory cards are great news but there are currently no gadgets that can handle such cards. Samsung also has not announced any pricing details or release dates. It is expected that Samsung future devices including next flagship Galaxy smartphone will come with support for such cards.
In comparison, SanDisk has launched world's fastest 256GB microSD card with 100MB/s read speed and 90MB/s write speed.
Have something to add to this story? Share your views with us in the comments.