JBL Clip 2
JBL Clip speakers are one of the best micro Bluetooth speakers. The Clip 2 from JBL is a beautiful small Bluetooth speaker that comes with a gorgeous design. It is fully waterproof and the battery life has also been improved as compared to Clip and Clip+. Let's have a close look at JBL Clip 2.
Design
The JBL Clip 2 is an ultra powerful portable speaker that features an awesome design. The speaker sounds relatively impressive in spite of its tiny size. In addition, you can also now connect two Clip 2 devices together wirelessly for amplified sound. The Bluetooth speaker is constructed from the durable fabric material. The rugged rubber housing of the speaker allows it to outlast in any weather conditions. As the speaker is IPX7 waterproof, you can take it anywhere without worrying about any rain or spills.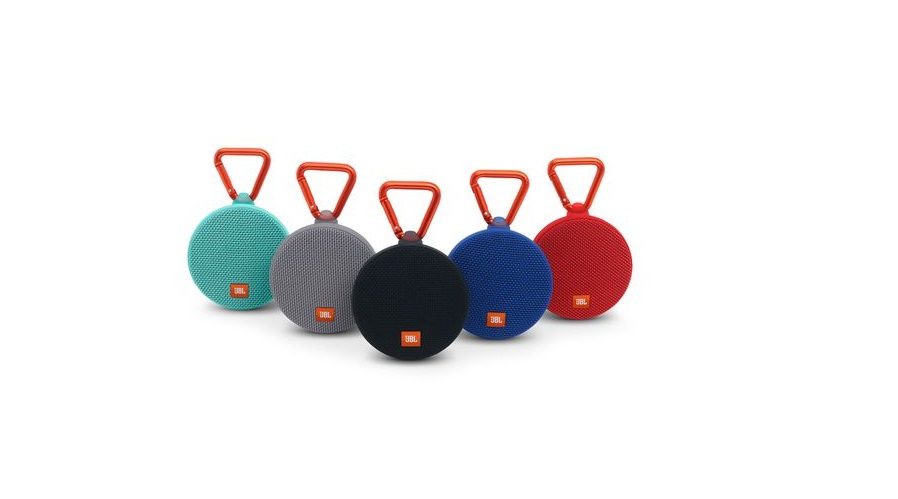 Speakerphone
This portable Bluetooth speaker includes noise and echo-free speakerphone. Under the Roll, it features a microphone so you can also take calls with this portable speaker. With the touch of a button, it allows you to take crystal clear calls from your speaker effortlessly. The most impressive part of this speaker is that it includes built-in carabiner. This allows you to hook the Clip 2 onto anything you would like to. You can hook it onto your clothes, backpack or messenger bag.
Wireless Bluetooth Streaming
Get this JBL Clip 2 today and enjoy wireless streaming of high-quality sound from your smartphone or tablet. Also, if your music player does not have Bluetooth, just plug the audio cable into it to enjoy your favorite music tracks. The auxiliary-input connector makes it possible to plug into almost any audio device.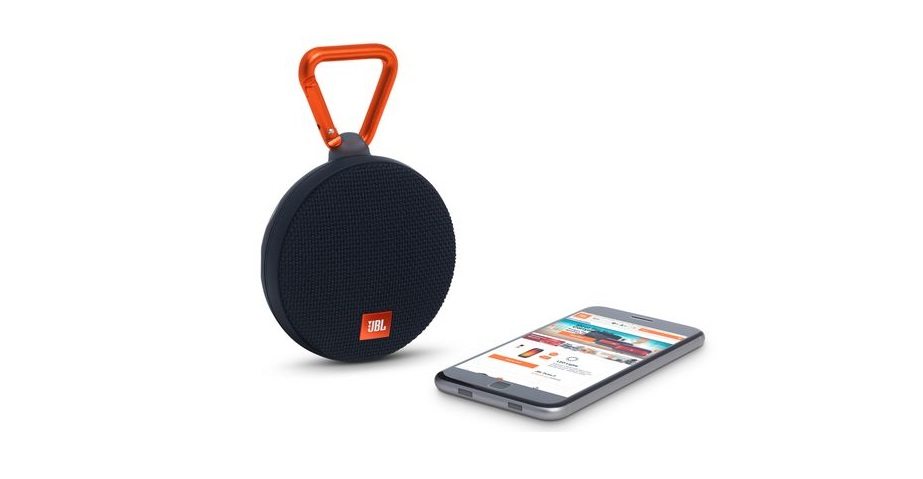 Features at a Glance:
Wireless Bluetooth streaming
Wirelessly connect two speakers together
Rechargeable battery
Battery life up to 8 hours of playtime
IPX7 waterproof
3.5mm audio cable
Speakerphone
Integrated carabiner
A quick look at JBL Clip 2:
Specifications
JBL Clip 2
Display
12.9-inch
Dimensions
141 x 94 x 42 (mm)
Frequency response
120Hz – 20kHz (-6dB)
Battery charge time
2.5 hour @ 5V, 0.5A
Music playing time
up to 8 hours
Colors
Black, Blue, Red, Gray, Teal
What's Included
JBL Clip 2
Micro USB cable for charging
Quick Start Guide
Safety Sheet
Warranty Card
Price
$59.95
Available at
Amazon
Buy it from Amazon
Do you like JBL Clip 2? Will you consider purchasing them? Which are your favorite mini Bluetooth speakers? Share your thoughts with us in the comments.