Though there are many messaging apps available for iOS users, TipTalk is the newest entry. This messaging platform allows users to directly connect with their favorite stars, experts or influencers via text, video and photo. It is the first of a kind platform that allows fans to have conversations with their stars on one-on-one basis. Let's have a closer look at its features:
About TipTalk
"TipTalk was founded with the mission of creating an authentic community for users that desire one-on-one access to influencers, while allowing influencers to monetize their time and knowledge," says Zach Melamed, CTO and co-founder of TipTalk. "Whether our users engage for expert advice or just for fun, we hope that by opening up this channel to the hardest-to-reach people in the world we can help induce meaningful connections, while at the same time drive positive change through the causes our influencers represent."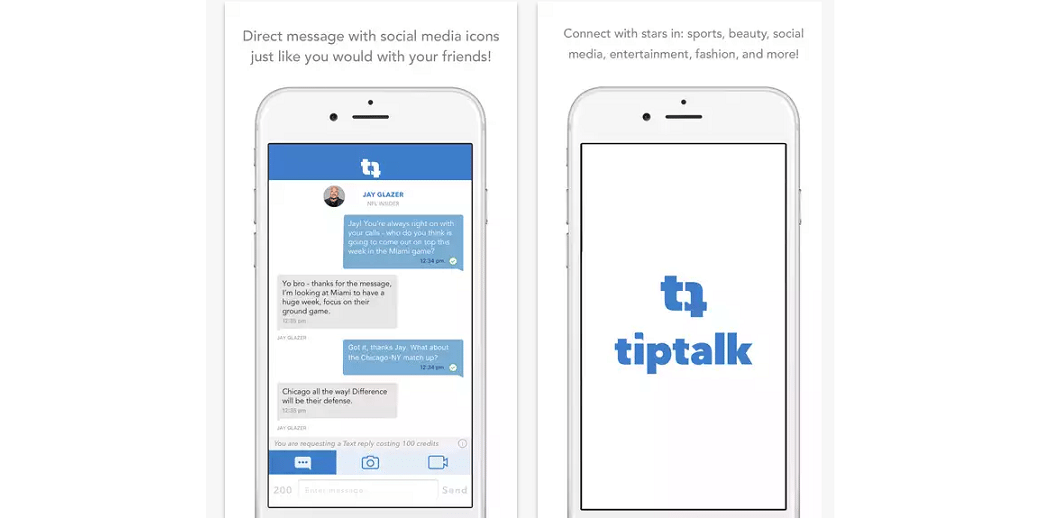 How to get started?
Simply download the TipTalk iOS app
Buy some $1 credits and pick a star
Now, request a text or photo or video response
Post your question and wait for the response.
You will receive replies within 48 hours.
You can ask for life tips, their views, surprise birthday message for your loved ones and other questions. Influencers set their own prices with even less-known personalities often charge $20 a text, $50 a photo and $100 a video. The celebrities will get 50 percent while Apple keeps 30 percent and remaining 20 percent is earned by TipTalk. Fans will be refunded when they don't get a response in 48 hours. Many celebrities are donating their take to the charity. Also, all of the stars have had their identity verified.
Marketplace for Fans
With so many social networks and messaging platforms, TipTalk allows you to connect with celebrities for a personal, authentic experience. The idea is to forge deeper relationships with the audience while earning enough to warrant a few seconds of their attention. The more famous the person, the more credits you need to pay to communicate with them.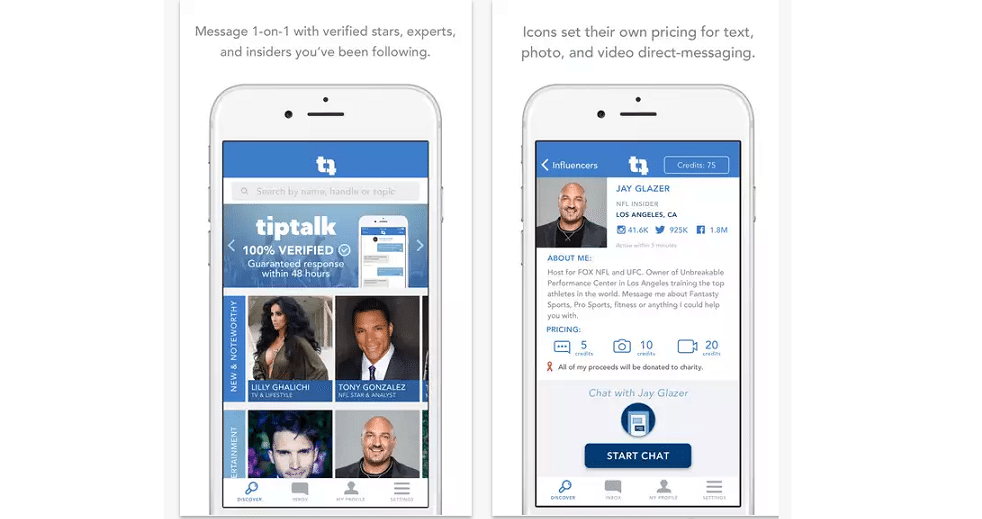 Communicate 1-to-1
The feature that distinguishes TipTalk from other ways of communicating with the stars and influencers is the facility of one-on-one conversations. The app boasts starts like Lilly Ghalichi (former Shahs of Sunset star, entrepreneur and beauty blogger), Stratton Sclavos (former Forbes Top 50 CEOs), Bode Miller (Olympic gold medalist skier) and more.
Some useful insights about TipTalk:
Cost: Free
Ratings: 4.5 out of 5 stars
Publisher: TipTalk, Inc.
Requires: iOS 9.0 or later
Compatible with: iPhone, iPad and iPod touch
Download it
Do you like the concept behind TipTalk? Share your thoughts with us in the comments.