Banner ads, digital presentations, infographics etc. are highly engaging forms of content over text and have gained immense popularity in the digital world. Visme is the ideal choice when looking to create a range of visuals. This free browser-based tool allows you to create infographics, web and mobile animations, presentations, product demos, graphs and charts and many more.
An Intro to Visme
Visme is a browser based application that simplifies the process of creating engaging content. The application has gained popularity among bloggers for its ease of use and simplicity features. It allows you to bring your text content to life. It is also being used to better manage and market products and services with the aim of achieving the target audience.

How to use Visme?
It only takes a few seconds to register and start creating your first project. Most of the features are available for free and the company also offers premium packages as well. You can start the project by naming it and then can decide whether you want to create an infographic, a presentation, a banner ad and more.
Visme offers various choices of free templates and presets from the start. The layout for creating is simple and it provides you thousands of free stock images to make your presentation stand out. You can simply search on the topic and you will come across hundreds of photos as well as vector images.

Ease of use
It comes with an easy-to-use editor and a large, free asset library. With this application, you can share, embed and download your presentation. Visme is all about user-friendliness and you just need to drag-and-drop images, shapes, banners etc. into the infographic to turn a template into your own custom visual. It offers you immense customization options such as change color of icon, change color of background, over hundred different font styles, and more.

Powerful Content Editor
Visme is powered by their own web based editor using which you can edit each and every element. It is simple to use and allows you to control photos, vector images, text etc. with your own specific controls. The infographic editor can be used to create custom charts, people counts and other stuff. A free user can export using an iframe while premium users get full HTML5 version of the work. Plus, the pricing is also reasonable.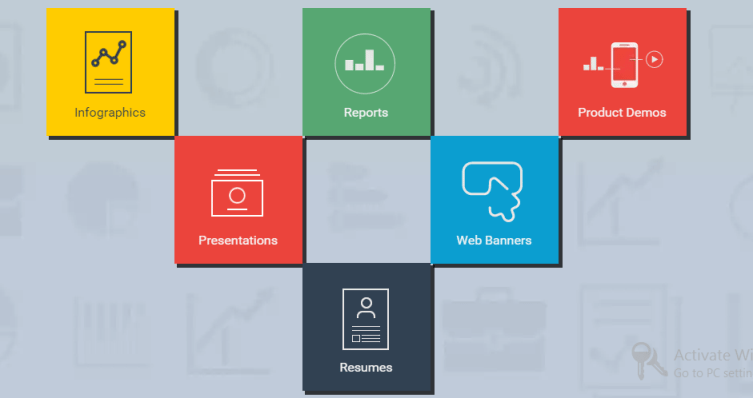 Other Notable Features
YouTube videos can be embedded and images can be uploaded in bulk
Word documents, spreadsheets, presentations can be easily created
Ability to sync right to your desktop
Export your presentation in several formats
Add effects to text to make it look 3D
Add automatic slide transition automations
Fully personalized to specific needs of users
Data visualization of all types
Fully HTML5 based content
Ability to make any object interactive
Intuitive and easy to use
Pricing
Here are the pricing details of Visme.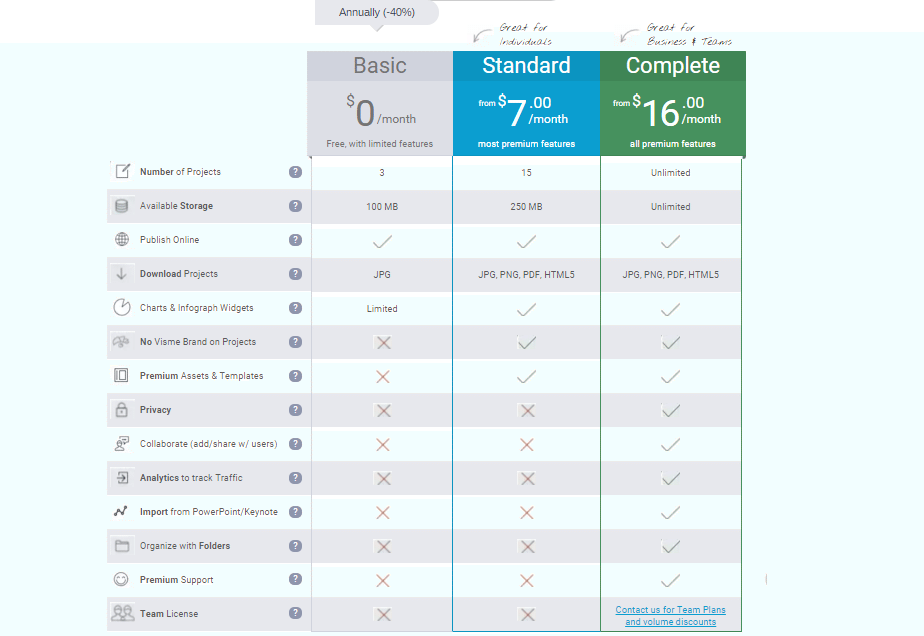 Wrapping Up
All-in-all, Visme is a great graphic application offering a wide range of templates and images. It comes with a user-friendly learning curve. Visme has covered thousands of free images and a wide range of background types, shapes, vector icons, graphs and more.
It is a must-try for every designer as the initial cost is none. You can sign up for free and enjoy many features and if you like it, can upgrade to premium package for additional features.
Give it a try and let us know how you feel about it in the comments.