Camera is one of the appealing features in smartphones these days. The tech giants continue to offer better-quality cameras capable of getting the right shot. Today, we are talking about one such amazing photo editing app that lets you fine-tune your pictures. The app is called Snapseed and has been chosen as our top app of the week. Let's check out its features:
An Introduction
Snapseed is one of the most powerful mobile photo editing apps we have for Android and iOS. It is a sophisticated photo editing app that lets you upload your favorite pictures and make a few changes. Whether you want to perform basic image enhancements or get more creative with your pictures, the free Snapseed app is the best choice. This universal easy-to-use photo editor is an all-purpose photo editing app. It offers a refreshed interface and comes with a clean and modern design.
The free app from Google lets you fine tune features such as brightness, contrast and saturation. It has powerful editing features like dodge and burn brush, tunable filters, intelligent selective edits and more.
Intuitive Interface
When you want to edit an image, you are presented with a full-screen view of your image and just need to drag your finger left or right to apply the edit. You can open the image in either portrait or landscape view and see a few non-intrusive buttons to get started. The editing features are organized in an intuitive order. The basic editing features include Crow & Straighten, Details tools, Creative Adjustments such as various filters, frames, and special effects and lots more.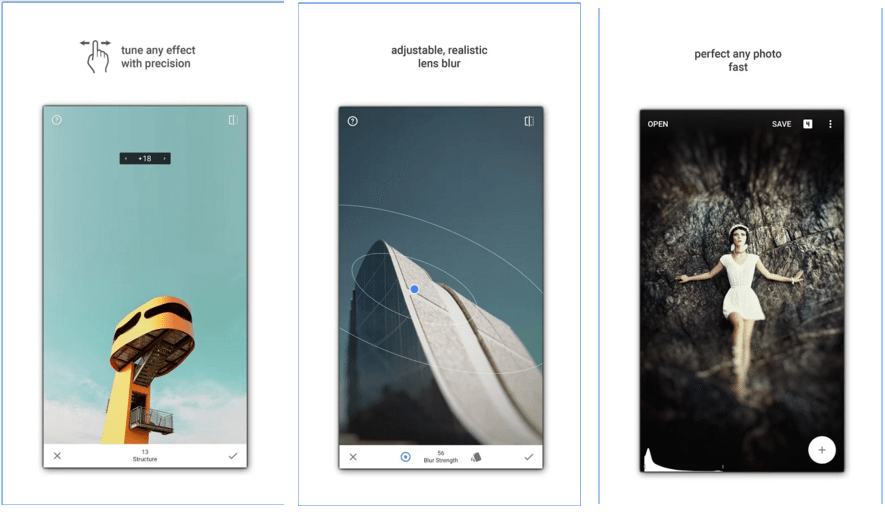 Filters and Special Effects
The Creative Adjustments are organized in different categories like Black & White, Drama, Grunge, Vintage, Frames, Center Focus and Tilt-Shift. Snapseed offers various options to make fine adjustments to each filter. It allows you to adjust texture strength, saturation, brightness, filter strength and more. There's a Black & White editing tool to choose between different color filters and alter the way black and white image is used. The best part of this app is that all filters are very use to use.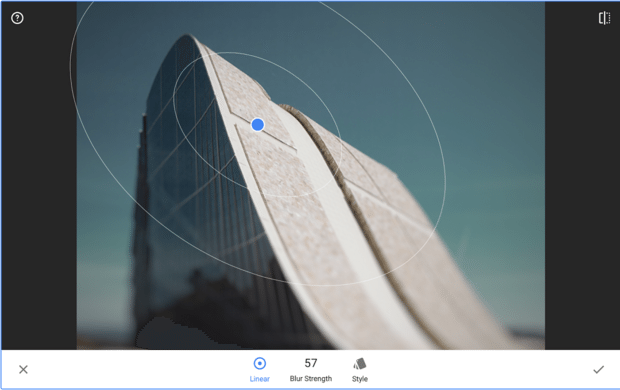 Exclusive Editing Tools
Snapseed comes with a host of editing tools that are not available in other free photo editing apps. The brush tool lets you selectively apply filters and effects. Just pick the function you want to use and use your finger to increase or decrease the intensity of the effect. The Perspective Transform Tool lets you immediately fills in the appropriate background. There's a Stacks Tool that works like a universal Undo.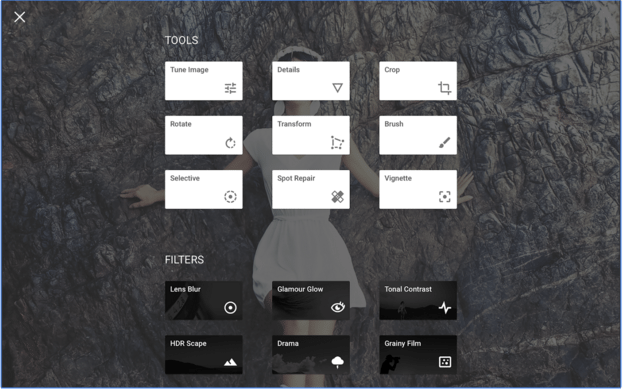 ---
Pros:
Rotate photos
Simple to use
Amazing editing features
Brighten pictures
---
Some useful insights about Snapseed:
Cost: Free
Ratings: 4.6 out of 5 stars
Publisher: Google Inc.
Download Snapseed for Android
Download Snapseed for iOS
All-in-all, Snapseed is a nice photo editor that comes with powerful photo editing features. It offers the most comprehensive tools at the cost of none. Give this free app a try and let us know how you feel about it in the comments!
If you like our content, please consider sharing, leaving a comment or subscribing to our RSS feed to have future posts delivered to your feed reader.

Please follow us on twitter @CodeRewind and like us on facebook