After Siri, Cortana and Google Now, it is the time to introduce personal assistant by Facebook called as "M". Facebook is adding an assistant within Messenger to get in competition with Apple, Microsoft and Google in the digital assistant space. Facebook personal assistant lives inside Messenger and the social network is expanding its messaging app's relationship with commerce.
Personal Assistant by Facebook, M, is the artificial intelligence-based service that the company is beginning to test, according to a Facebook Post by Messenger head and former PayPal executive David Marcus. He spoke a bit about Facebook's plans:
"Today we're beginning to test a new service called M. M is a personal digital assistant inside of Messenger that completes tasks and finds information on your behalf. It's powered by artificial intelligence that's trained and supervised by people.
Unlike other AI-based services in the market, M can actually complete tasks on your behalf. It can purchase items, get gifts delivered to your loved ones, book restaurants, travel arrangements, appointments and way more.
This is early in the journey to build M into an at-scale service. But it's an exciting step towards enabling people on Messenger to get things done across a variety of things, so they can get more time to focus on what's important in their lives."
He also posted a few screenshots of thee service showing text-based interface where a user communicates with M about what he needs. The service is presently available to a few hundred people in the Bay Area.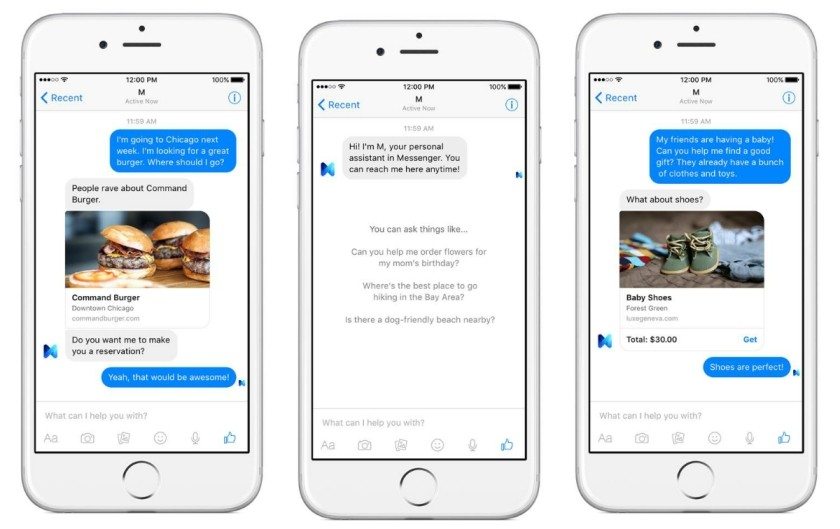 In addition to purely digital assistants like Apple's Siri, Google's Google Now, Microsoft's Cortana, this personal assistant by Facebook will also be competing with services such as Magic and Operator. M will tell you what the weather will be like, what's the baseball score and lots more. It can also be used to schedule appointments and send reminders. M does not rely solely on artificial intelligence to answer questions and can be used to purchase items, get gifts delivered to your loved ones, travel arrangements, and lots more. M Trainers turns it into actual, old-school customer service representatives to answer questions.
You don't talk to M and just text questions and commands to it. M always responds via text and not voice. M also does not offer predictive search results like Google now or Cortana. M is an attempt by Facebook to catch up massive amounts of usage data being collected by Apple, Microsoft or Google.
Share your thoughts on the story in the comments!
If you like our content, please consider sharing, leaving a comment or subscribing to our RSS feed to have future posts delivered to your feed reader.

Please follow us on twitter @CodeRewind and like us on facebook