Garmin Fenix 3 is an amazingly beautiful looking smartwatch and greatly appeals to trail and ultra runners, cyclists, mountaineers and alike. Health and fitness watches have been used by runners, cyclists and triathletes for years to improve their performance. With all the hype surrounding Apple Watch, Garmin Fenix 3 is also getting attention of users. It is a fully-fledged smartwatch that comes with features like heart rate monitor, altimeter, barometer, and more. Garmin Fenix 3 comes with a lot of fitness and outdoor training features.
Design
Fenix 3 is a large smartwatch and features bulky design. The stunning good looks and supreme build quality make it a good looking watch. Fenix 3 comes with three versions: Sapphire Version, Sliver Version and Grey Version. Sapphire is the premium, expensive one with genuine crystal lens for extra strength and features a heavier metal strap while the lighter version proves better for fitness activities. All these three look stunning and go well with your office suit as well as running gear.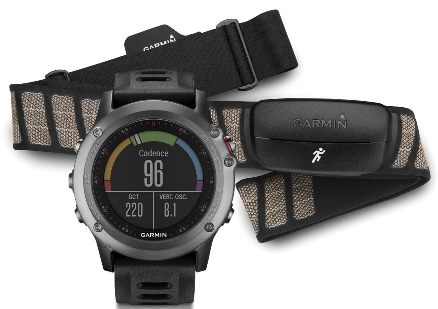 Screen and Battery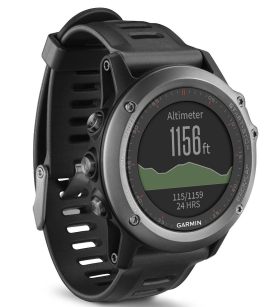 Garmin Fenix 3 comes with a color e-ink display and the screen is quick and responsive. The backlight helps in low light and screen is lovely even when in direct sunlight. Garmin claims a full 20 hours of constant on GPS recording. Garmin has a rechargeable 300 mAh lithium-ion battery. The Fenix 3 comes with smartwatch style notifications and those notifications flashes up on the watch and prompts you with a buzz. It displays notifications, weather and calendar. Notifications are easy to read and you can only read them, not respond. The weather and calendar screens can only be viewed and not edited.
Fitness Training Features
The smartwatch includes a number of good features for fitness enthusiasts. Some of the fitness training features include VO2 Max, running dynamics, recovery advisor and more. It also supports cycling features like full Vector support, gradient data, bike profile, heart rate etc. For swimmers, the smartwatch offers features like distance, stroke count/rate, pace and lots more.
It comes with Connect IQ App support for further customization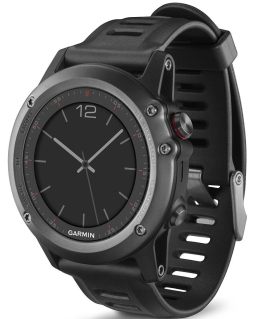 Navigation Features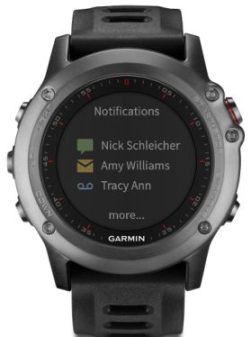 When it comes to the technical part, Garmin Fenix 3 has GPS + GLONASS to provide satellite fix. GLONASS is an alternative navigation system and has many satellites available to their devices; positions can be fixed with speed and accuracy. GLONASS offers an improved accuracy and is received by a new Exo Antenna on the surface of the watch. Fenix 3 connects to a plethora of accessories via ANT+ such as ANT+ Heart Rate Monitor, ANT+ Running Footpod, ANT+ Cycling Speed, ANT+ Cycling Power Meter, ANT+ Temperature Sensor and more.
A quick look at Garmin Fenix 3:
| | |
| --- | --- |
| Specifications | Details |
| Display Size | 1.2" |
| Display Resolution | 218 x 218 pixels |
| Battery | 200mAh |
| Water Rating | 10 ATM |
| Smart Notifications | Yes |
| Wireless Connectivity | Yes |
| USB charging/data cable | Yes |
| Battery Life | 20 hours |
| Cost | $521.99 |
| Available At | Amazon.com |
---
Pros:
Smart notifications
Waterproof to 100 meters
Data tracking for a huge array of sports
Wireless sync with Garmin Connect fitness app
Looks great
Cons:
Inaccurate sleep tracking
Big and bulky
---
Wrapping Up
Garmin Fenix 3 is an ultimate fitness watch that offers top level data for athletes and casual fitness fans who enjoy a diverse range of sports. The impressive battery is another plus that comes with purchase of this smartwatch. Though the smartwatch notifications are not the best, but they combine with activity tracking to offer you enough features.You can buy it from Amazon.com at discounted prices.
What are your views about Garmin Fenix 3? Do you like its features? Let us know your thoughts in the comments!
If you like our content, please consider sharing, leaving a comment or subscribing to our RSS feed to have future posts delivered to your feed reader.

Please follow us on twitter @CodeRewind and like us on facebook