Fitbit Charge HR is a high-performance wristband providing continuous heart rate and activity tracking on your wrist. It is an enhanced version of Fitbit Charge which was released on November 17, 2014 and comes with additional features like continuous heart rate monitoring and other fitness stats. It is catching the attention of fitness lovers and the most loved feature is automatic heart-rate tracking. It also supports quality sleep and silent alarm but lacks features like GPS monitoring. Here go the detail:
Design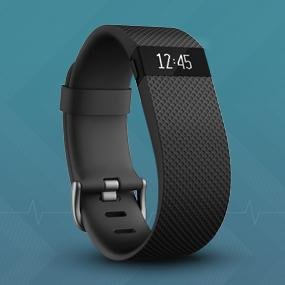 Fitbit Charge HR is made of a soft black rubber and features a diagonal pattern along with outside. There's a small OLED screen that displays health data and pressing and holding Charge HR button lets you record a specific activity. It presents the data nicely and also lets you compete with your friends. The strap attaches with a watch buckle-type class. Fitbit recommends wearing it a finger's length above the wristbone on your arm for ideal heart-rate readings.
Display
The design of Fitbit is operated by small button on the left side and each push shows data of different features. You can customize the features to be shown including clock display design. You can also set one of the functions to display when main body is double-tapped. This feature provides you easy access to the most looked upon feature.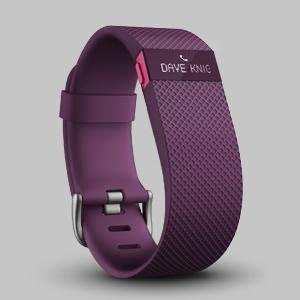 Incredible Platform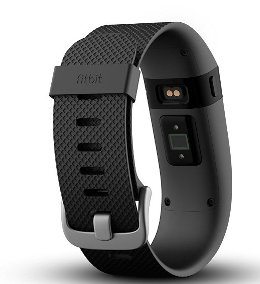 It has a MEMS 3-axis accelerometer to measure motion patterns. This helps to determine the calories burned, distance traveled and steps taken by you. It tracks heart rate 24 hours and syncs everything to your phone. It includes USB dongle for charging. The dashboard provides information in a simple manner and you can also customize to show only feature that you want to show. Data is instantly visible in real-time.
Automatic heart-rate monitoring
This is probably one of the greatest features of Charge HR. just double-tap the main body of device or push the side button a couple of times, you will get real-time heart rate. The continuous monitoring also helps you in easily tracking your heart rate to see if your health is improving or not. As it provides monitoring all day and all night, it gives a good insight about heart rate when awake and when asleep.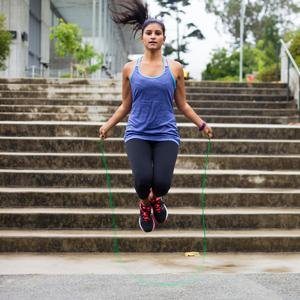 Activity Tracking
Fitbit Charge HR is an ideal activity tracker and also provides real-time syncing with your smartphone. It runs on iOS, Android, and Windows and you can also sync it with Windows or Mac. You can set it into exercise mode and the complete exercise will be tracked. It gives a rundown of heart rate during exercise, calories burned as well as the impact on your day. Though you will be able to see who is calling via the caller ID feature but you won't be able to answer or reject calls. Also, you won't get any emails, messages or Twitter notifications.
Let's have a look at its specifications:
| | |
| --- | --- |
| Specifications | Details |
| Dimensions | 8.2 x 0.8 x 0.4 inches |
| Clock | Yes |
| Caller ID | Yes |
| Continuous Heart Rate | Yes |
| GPS Tracking | No |
| Music Control & Notifications | No |
| Active Minutes | Yes |
| Sleep Quality and Silent Alarm | Yes |
---
Pros:
Comfortable
Continuously tracks heart rate
Great fitness tracker
Accurate readings
Cons:
Limited notifications
No gorgeous design
Display turns off after a few seconds
Not swim-friendly
---
Final Words
The Fitbit Charge HR is a versatile activity tracker and the most prominent feature is the automatic heart-rate monitoring. The exercise mode is another great feature. The battery life is also impressive. Though not perfect, but delivers a good fitness-tracking experience to the users. You may not be able to receive messages or email notifications, but it does syncs with all platforms.
You can purchase this wristband from Amazon.com at the best prices.
Have you purchased it or will you consider purchasing it? Let us know your thoughts about Fitbit Charge HR in the comments below!
If you like our content, please consider sharing, leaving a comment or subscribing to our RSS feed to have future posts delivered to your feed reader.

Please follow us on twitter @CodeRewind and like us on facebook