Cooler Master QuickFire Rapid-I is one of the most popular mechanical keyboards by CM Storm. This compact mechanical gaming keyboard comes with Cherry MX Brown switches featuring full LED back-lighting. Among latest Ten Key Less (TLK) keyboards, QuickFire Rapid-I has some very cool lighting modes, profiles for lighting and key assignment, as well as a set of multi-media keys.

Cherry MX Switches
It comes with the choices of blue, brown and red Cherry MX Switches. No matter which switch you choose, all version are backlit with white LEDs. There are lighting modes as well: one mode includes the WASD and arrow keys and another mode will light when you press a key. There's also a lighting mode that will light the entire row and column of the key pressed. The keyboard has 128KB of onboard memory for profiles of lighting schemes and button reassignments in the M-keys.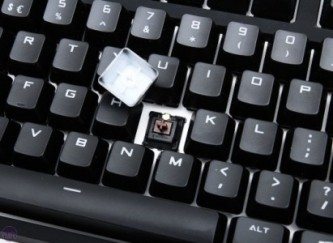 Incredible gaming keyboard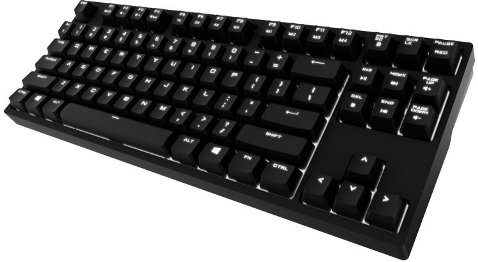 The Rapid-I measures 1.5 by 14.1 by 5.4 inches. It weighs 932 grams, comes with a key puller and two year warranty. The bottom of the keyboard includes four rubber feet and two in back. It is a feature-balanced gaming keyboard with ten-keys-less form. This cut down size saves space on your desk and makes it easy for you to transport it.
Durable keys
The keys come with a light coating, adding a little texture and grip. Also, the chassis under the keys is finished in white that contrasts with rubber finish of keyboards exterior chassis.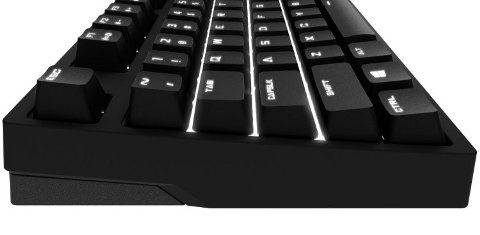 Beautifully designed
At the back of the keyboard, there's a main Micro USB 2.0 socket on the left. You'll also find the CM Storm logo just below the end of soft-touch rubber finish. On the base of the keyboard, there are four rubber grips.
Superior Performance
Performance of the keyboard is impeccable, having a good actuation point. In terms of durability, this keyboard should survive for more duration.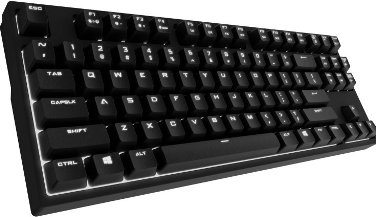 Comes with quality USB
The USB Cable comes fitted with gold-plated connections and a quality black braiding.

---
Pros:
Compact design
ActivLite technology
Good touch and feel
Rubber matte coating finish
Cons:
No lights for individual keys
Red LEDs are too bright
Noisy for office use
---
A quick look at CM Strong QuickFire Rapid-I Keyboard
Specifications
Details
Approximate Size
359 x 138 x 39 mm
14.1 x 5.4 x 1.5 in
Approximate Weight
932 g / 2.05 lbs
Color
Black
On board Memory
128k bytes
Windows Key Lock
Yes
Type
Wired
Keyboard Interface
USB 2.0
Media Keys
Yes
Key switch type
Brown Cherry MX
USB Cable
1.8m braided and detachable
Gaming Mode
Yes
Final Words
When you are looking for best and most competitively-priced mechanical keyboard with Merry MX Switches, there's no better choice than Rapid-I. You're sure to love the compact design of this ten-key-less keyboard that provides extra space for your mouse and make a perfect companion during your travels. The individual key lighting feature is also commendable, allowing you to save up to four different lighting profiles for different gamers.

Grab it today from Amazon.com and let us know how you feel about it in the comments section below.
If you like our content, please consider sharing, leaving a comment or subscribing to our RSS feed to have future posts delivered to your feed reader.

Please follow us on twitter @CodeRewind and like us on facebook