Kaspersky Internet Security 2015 is the latest version offered by Kaspersky and it includes a complete toolkit to provide every security feature. It supports Windows, Mac, iPhone, iPad as well as Android and protects all these devices from cybercriminals. It delivers innovative technology to protect your privacy, identity as well as money.
A powerful antivirus program delivers real-time protection and highlights all possible dangers. It safeguards your privacy and personal information while providing extra security for online banking. Kaspersky is always known for its excellent protection against malware and virus. This IT security company has rapidly been growing and is one of the prominent security companies in the world. Kaspersky has a record of providing exceptional security to the users. It utilizes cloud-based security along with software-based security to provide protection against viruses.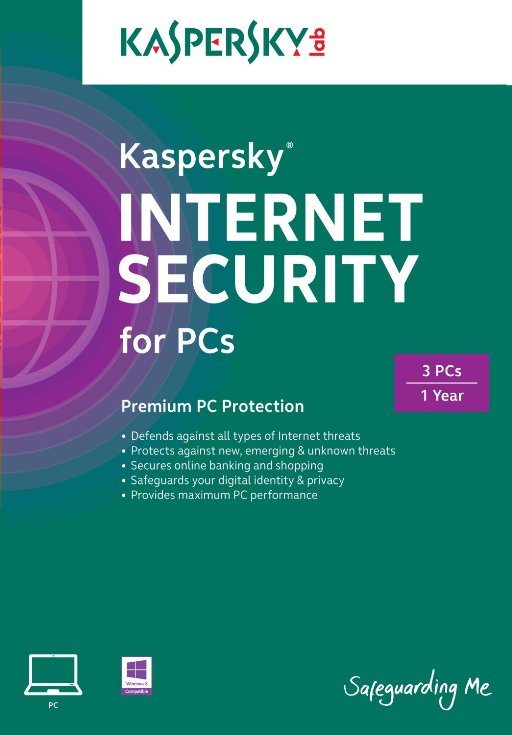 Installation
Installation is fairly simple. The user interface becomes responsive from the moment you start the process. You can download the trial version from the Kaspersky website by entering your name and email address. The entire setup file will then start downloading. When you are done with downloading, the setup process takes a few minutes. The user interface is easy to navigate and in the main application window, there are four large buttons that say, "Scan", "Safe Money", "Update" and "Parental Control." Each tile in the home window is self-explanatory and provides your status information and settings.
Kaspersky Performance
Kaspersky Internet Security 2015 offers fast scan performances. It blocks access to known phishing sites and provides a real-time analysis to detect new fraudulent websites. It effectively blocks malware from emails, websites; USB attached devices, social networking sites, as well as IM conversations. You can easily schedule custom scans and it also has a virtual browser that allows for safe web browsing.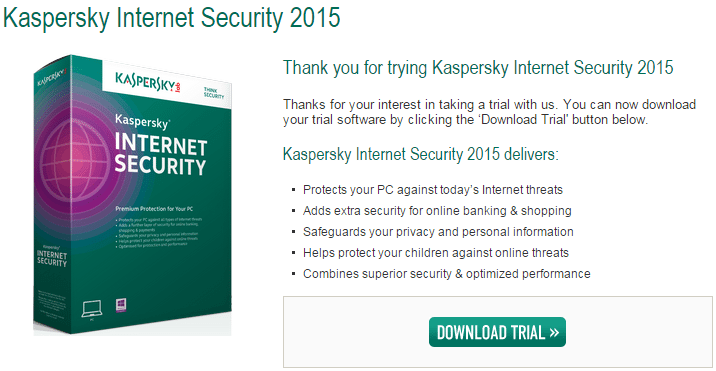 Kaspersky Features
This security suite comes with premium features like parental controls, password manager, identity protection and multiple PC protection.
The password manager helps you to create an added layer of security. It automatically submits your passwords to websites you often visit and eludes malware when they attempt to gain your passwords. Thus, you are saved from remembering the complex passwords and on the other hand, you will not become a victim of scam.
Parental Controls is another excellent feature that allows you to edit your teen's profile. You can also block children from sharing their contact information or files and more.
Safe Money is another feature worth mentioning. Safe Money has recently won an AV-Test innovation award. It is a convenient and safe way to protect your bank details.
Some of the other new features of Kaspersky Internet Security 2015 are webcam security, tablet security, stop hackers from accessing your notebook or phone camera.
An amazing feature of this security protection tool is that we haven't noticed any impact of the software on our tasks such as visiting websites or downloading software. The scan does not slowed down in working of computer.
There is also a backup feature that saves copies of your data online via a Dropbox account.
---
Pros:
Excellent at detecting and removing malware
Effective at blocking malicious websites
Detects all blacklisted sites
Interface is easy
Cons:
Backed up files are not encrypted
Display issues on touchscreen devices
---
Final Thoughts
Kaspersky Internet Security 2015 is a solid security product and delivers effective protection in a friendly manner. The user interface is simplified and strives to offer new and interesting features for a better user experience. Although it takes a while to set up as it starts with a bulky 195MB download but, once configured Kaspersky does a great job of keeping you safe.
You can buy Kaspersky Internet Security 2015 from Amazon.com at the lowest price and take the first step towards your internet security.