Meet GlassWire: Network Monitoring Tool
GlassWire is an efficient network monitoring tool that visualizes your network and watches for suspicious activities. It is a comprehensive network security tool that tells you everything about your network traffic. Let's have a close look at its features:
Easy Installation
GlassWire is an easy to install software and download weighs is around 20 MB. A few installation prompts and then it recommends you to reboot your computer so as to detect your network connections. It then analyzes your network and offers a Graph of your network activity. The graphics are very colorful and looks beautiful.
When you use this network monitoring tool, you will get to know about the applications on your computer that are sending private data over the internet without your knowledge. It efficiently monitors your network activity for any suspicious event. When that suspicious activity is detected, you can block the potential threat.

Visualize your Network Activity
The most impressive part of GlassWire is that it visualizes all your network activity on an easy to use graph. You can click anywhere on the graph and see which applications and hosts are accessing the network from your computer.
It comes with easy to use application firewall to block certain applications from using your network connection. Other commendable features include long-term usage statistics, remote network access and more.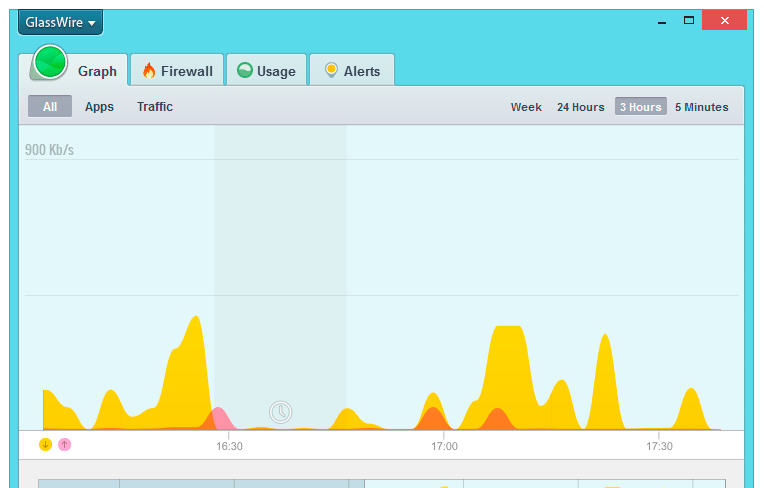 Firewall View
The Firewall tab allows you to review the list of apps with which you are communicating. You can see all apps that are using Internet, the upload and download speeds as well as the server IP addresses they use. The IP addresses are presented in the URL format for easy identification of the servers.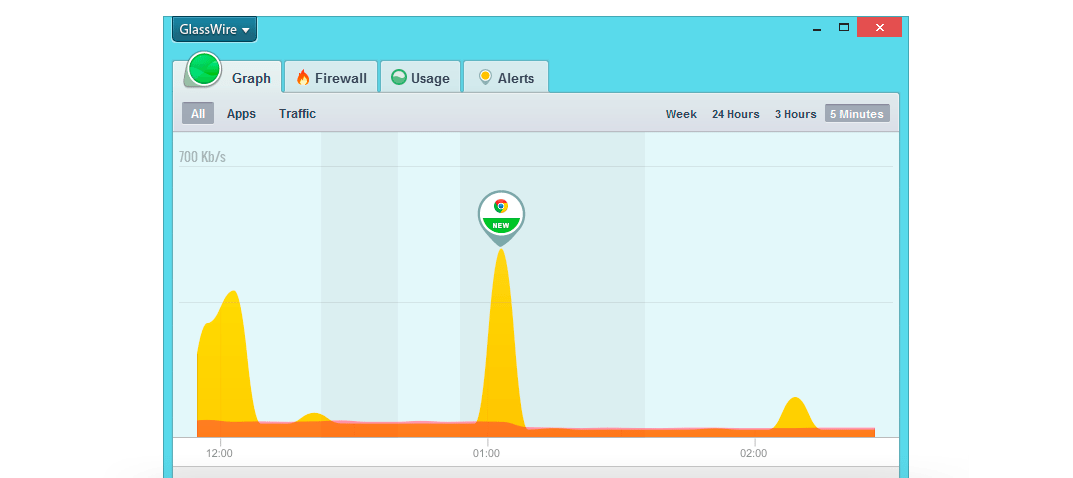 Useful Notifications
Notifications pop up in the system tray from time to time and in the Alerts view tab, you will see all the alerts/notifications. These alerts are about the apps that are accessing the internet for the first time. Then, there's a usage view that shows almost all data pertaining to the apps using your network. You will be presented with graphical representations and the protocols they are using along with IP addresses. The GlassWire Basic interface is called Network where you will see all the devices connected to your network.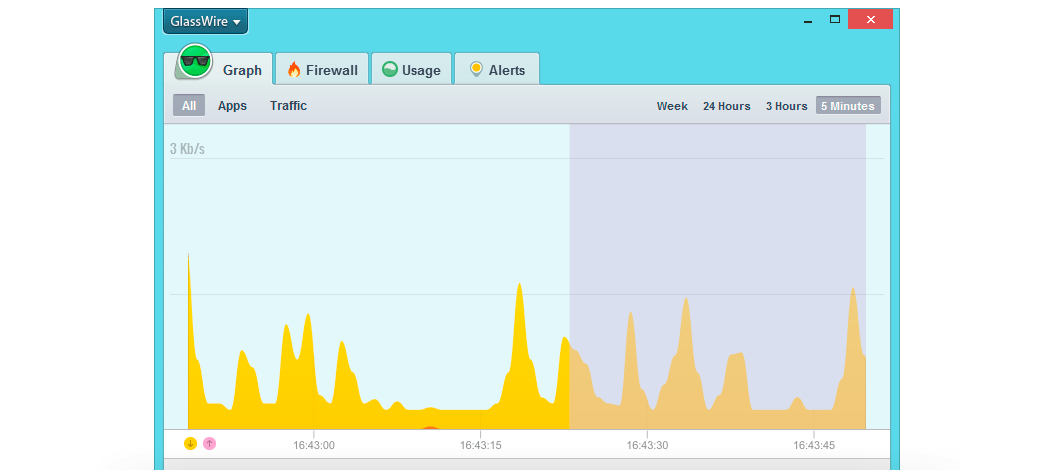 Usage Monitor
You can keep track of your daily, weekly or monthly bandwidth usage using GlassWire. Click the icon of the app or traffic to see complete details. It keeps track of bandwidth for the computer and server it is installed on. It integrates with your already installed anti-virus software and thus, allows you to scan programs. When a connection is made to an IP on suspicious host list, you will be warned.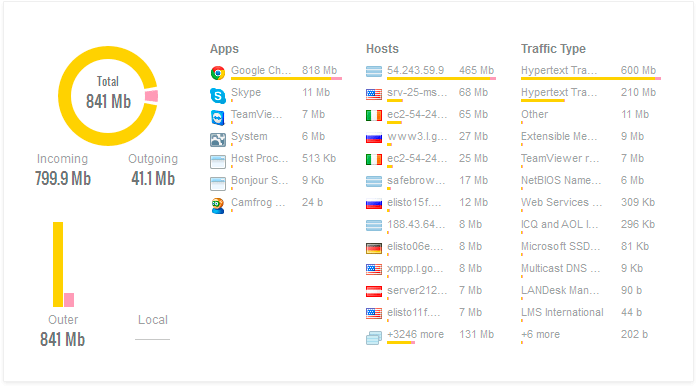 Paid-for Versions
Paid-for versions come with features like 'Ask to Connect' which prevents all connections, 'Block All' which give functionality of a full two-way firewall. Paid-for users can see what devices are connected to their networks to determine if someone is freeloading off their Wi-Fi. The paid license also allows you to monitor remote servers. You can get flat discount of 10% on any of the three versions by using coupon code "coderewind".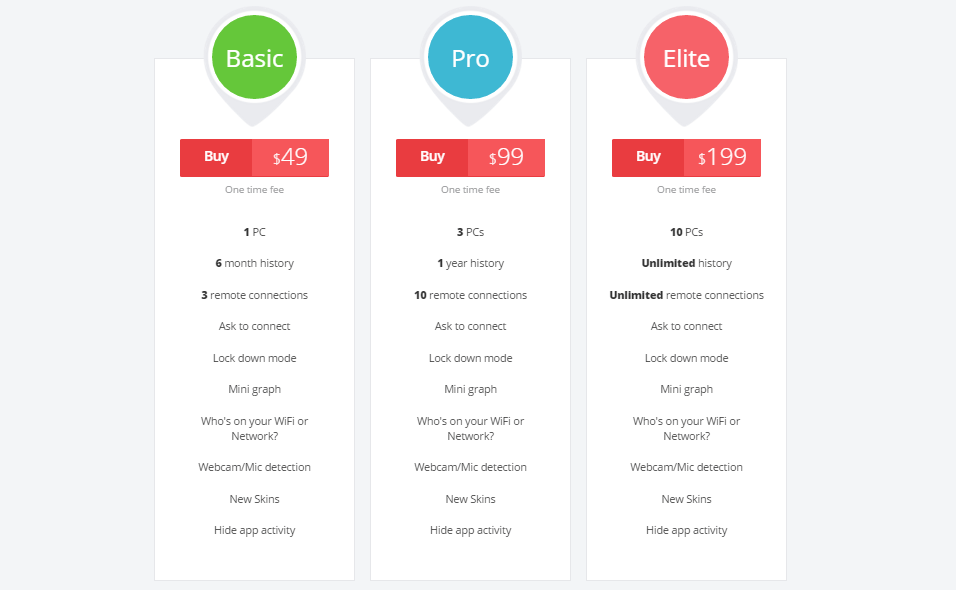 ---
Pros:
Simple to use
Visualizes the network activities
Mobile backup
Colorful and attractive
---
Final Words
GlassWire is an efficient traffic analyzing and network monitoring tool that comes with a beautiful interface. We appreciate the amount of information it is capable of providing. It allows one to get a better idea of what's happening on your network connection in an elegant manner and through an easy to use interface. The modern interface is intuitive and is simple for anyone to take full advantage of its capabilities.
You can also checkout on post on monitoring network traffic on Windows by clicking here.
If you are concerned about the costs for Pro version, you can get flat 10% discount by applying coupon code "coderewind" during the checkout process on any of the three versions.
Do you like the features of GlassWire? Share your thoughts with us in the comments.