The most popular messaging app, WhatsApp, has now got official support for Android wear. WhatsApp has pretty much replaced the age old SMS and is conquering the messaging world with its instant messaging service. The app has a large user base of over 500,000 active monthly users and the number is growing rapidly.
Now with the beta update for WhatsApp messenger, it has gained official support for Android Wear. This implies that WhatsApp has extended its wrist capabilities much beyond than just viewing and clearing notifications. If you are also tired of just being able to view and clear notifications from your wrist, check out the new beta update of WhatsApp. With this update, the service is now extended to Google's wrist platform and users will be able to reply to messages directly from their wrist.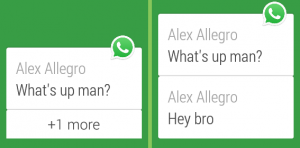 The new features are launching somewhat quietly as the App's Google Play listing has not been updated yet and the direct link on WhatsApp's website has no mention of smartwatch features. But, yes users can manually update the app will find a new app installed on their Google Wear device. The latest features go beyond than simple notification push and users can read stacked conversion messages and can also reply to them using voice.
Stacked notifications allow you to see multiple notifications stacked on your wrist. The update also allows you to see a complete preview of received messages. The update comes with the ability to dictate replies to messages right from your wrist.
You can grab the latest version of WhatsApp from the official site here or can wait for the updated one on Google Play Store.
Source: 9to5Google