Pebble Time is the third and latest smartwatch by Pebble. Time is an improvement of the original Pebble in every sense. This fine tuned version comes with a new color display. We have reviewed Pebble Steel Smartwatch a while ago and now it's the time to explore the functionalities of this new smartwatch by Pebble. The simple interface lets you put your app notifications in a chronological order and thus, reducing the need to launch apps every time you need information.
Let's explore its features:
Design and Display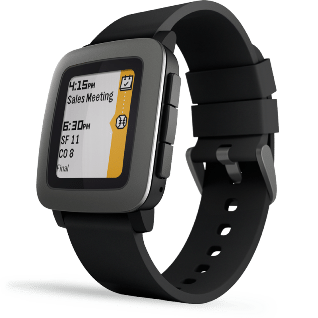 When you are looking for a stylish smartwatch, Pebble Time may not fit in. It comes with a square display, polycarbonate shell and wide silicone bands. It offers you a casual, sporty look and is a nice everyday watch. With a thinner body that curves slightly to fit your wrist, this smartwatch comes with a new display, and a stainless steel bezel framing the always-on color screen. Pebble is using a color display on Time and the individual pixels are clearly visible. It is great on outdoors as it reflects the sunlight and has the benefit of always being on. The case and bezel are made from stainless steel and the straps come in a variety of materials.
Performance
Pebble Time can work with Android and iOS smartphones and pairing is straightforward. You can reply to texts using voice reply. Notifications are delivered with a sharp vibration to the wrist which is more intrusive than Apple Watch. The menu comprises of Settings, Music, Notifications, Alarms and Watchfaces tabs. The downloadable watchfaces and apps are impressive with more than 6500 apps and faces available until date.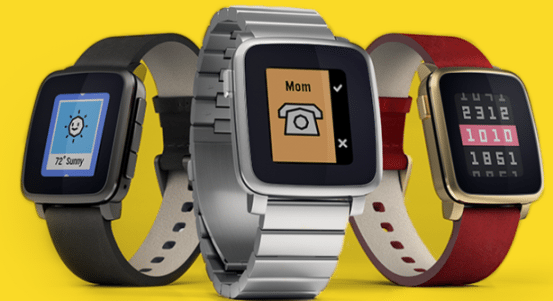 Battery
Pebble Time smartwatch comes with a prolonged battery life and lasts for an average of six-seven days on a single charge. The extended battery life offer tangible benefits including multi-day trips, wear it at night to track your sleep and more. You are saved from constant charging of the smartwatch. This feature is really useful and helps you enjoy its features at their best.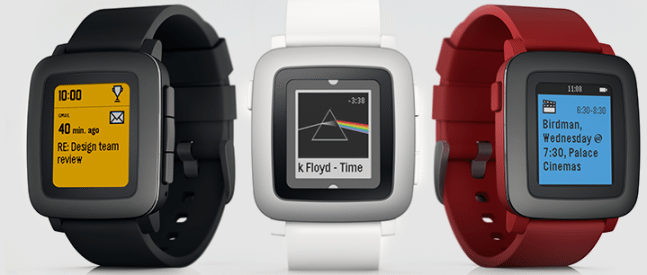 A quick look at Pebble Time:
Specifications
Details
Dimensions
Case: 40.5mm L × 37.5mm W × 9.5mm T
Weight
42.5g
Display
1.25-inch, color e-paper display
LED backlight
Bluetooth
Bluetooth 4.0
Battery Life
Up to 7 days
Water Resistant
Yes, 30m
Special Features
3D accelerometer, compass, light sensor, mic
Apps
iPhone and Android apps
Cost
$199, pre-orders begin at end of June
---
Pros:
Battery life is good
Water resistant
Works with both iPhones and Android phones
Large number of apps
Unique display
Cons:
Hard to read in dim light
Fitness apps are not polished
Can choose one app for activity tracking
---
Bottom Line
All-in-all, Pebble Time is a great improvement over the original. Its unique design, in terms of both hardware and software, appeals to a more niche audience when compared to other smartwatches. The e-paper display gives Time a few significant advantages. The display is always on and there's no need to press a button or flick your wrist to see the time. Pebble Time is certainly not for everyone especially those who like toy-like design and cutesy animations. It is decent alternative to Android Wear and could be well worth of your money and time.
It will be available for pre-order at the end of June. You can check out the complete details at their website.
What are your thoughts about this smartwatch? Do you like its features? Let us know your thoughts in the comments!
If you like our content, please consider sharing, leaving a comment or subscribing to our RSS feed to have future posts delivered to your feed reader.

Please follow us on twitter @CodeRewind and like us on facebook