Every business has limited resources and it is required to utilize them properly to get the maximum output of their investment. Investing in mobile credit card readers is essential. Otherwise, the business will lose out a large section of customers that use credit cards for making payment. In today's digital age, no business can afford to miss out such high number of potential sales. With mobile credit card readers available, you are saved from buying bulky equipment to process credit card payments. It is as simple as swiping a card through a reader attached to smartphone.
We have compiled a list of best 4 mobile credit card readers for you:
Square is a popular and free card reader that support both Android and iOS devices. With Square service, your business will be able to accept Visa, MasterCard, Discover and American Express cards. It is very easy to use and the iOS version also allows you to select products from your inventory and add multiple products to each transaction. You can view sales history from within the app.
Download Square for Android
Download Square for iOS
---
Pros:
Easy to use
Simple to manage transactions
Apps are free
Attractive
Cons:
Processing fees are higher
Works only with Android and iPhone
---
---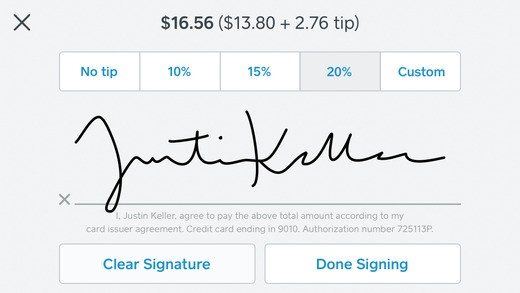 When you're looking for an affordable solution to your credit card payment processing needs, PayAnyWhere perfectly fits in. It is free to use and accepts most major credit cards. It does not include any setup costs or fixed monthly payments. The transaction fee is 2.69% per swipe. Both iOS and Android apps are easy to use and feature-rich.
Download PayAnyWhere for Android
Download PayAnyWhere for iOS
---
Pros:
Convenient lock button
Amazing user interface
Low-cost and quick solution
Cons:
Issues are faced in some models of Android devices
---
---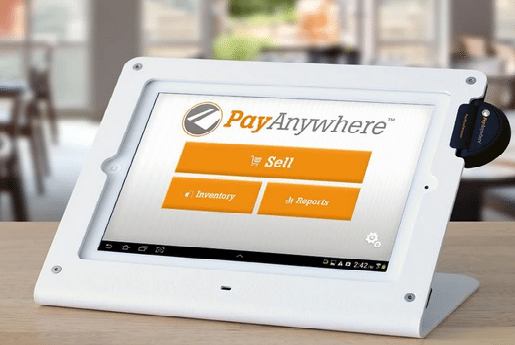 Here comes one of the popular mobile credit card reader apps. It lets you accept all payment types and also records all your credit card transaction. With this app, you can also record any cash or check payments. You can personalize receipts and customize it according to your business requirements. It offers you two plans, one is pay per transaction and second comes with a fixed monthly rate of $19.95 with low swipe rate of 1.75%.
Download Intuit GoPayment for Android
Download Intuit GoPayment for iOS
---
Pros:
Convenient and secure payment processing
Beautiful interface
Responds quickly
Cons:
Does not include tax on price before card swipe
Some features lack in Android version
Not compatible with Windows or Blackberry devices
---
---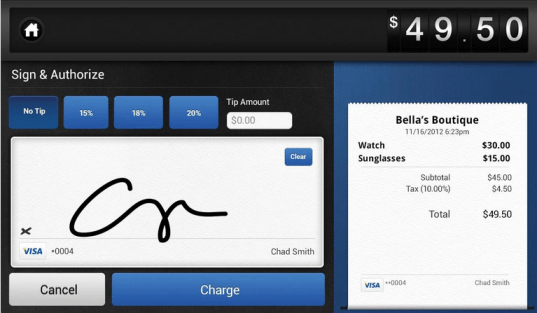 PayPal Here is a must-have in our compilation of top mobile credit card reader apps. PayPal is one of the most recognized players in the payment industry. PayPal here allows you to accept multiple payment types. The transaction fee is 2.7% per swipe and accepts US-based Visa, MasterCard, Discover and American Express debit and credit cards. It also lets you accept scanned or keyed entries. Additional fee is charged for international cards.
Download PayPal Here for Android
Download PayPal Here for iOS
Download PayPal for Windows Phone
---
Pros:
Simple and secure
Many ways to receive payments
Multiple ways to access customer service
Cons:
Delayed access to your money
---
---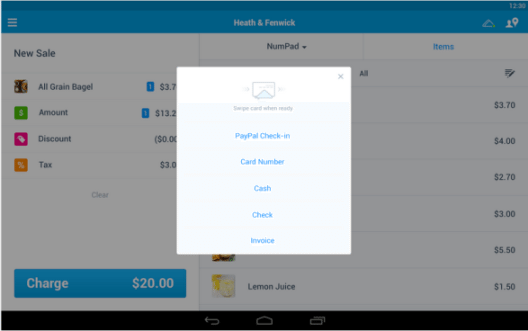 Which mobile credit card readers do you use for your business? Is that mentioned in our list or do you have a different choice? Let us know!
If you like our content, please consider sharing, leaving a comment or subscribing to our RSS feed to have future posts delivered to your feed reader.

Please follow us on twitter @CodeRewind and like us on facebook