Tumblr is a popular blogging platform and has millions of active users, creating millions of new posts each day. Blog-to-book trend is continuously moving on the upward curve and more and more bloggers want to see their blogs refined into beautiful books. Turning your blog into book expands your reach where the content will not only be confined to an online site, but can be printed, shared, cherished as a book and viewed for generations to come.
[leaderad]
So, the question is how to make book from Tumblr blog? Booklrs makes it easy for you. It just takes three steps and you are done!
The first step is to fetch your blog data. You just need to grant one time connection to your blog.
The next step is to write a foreword and choose a catchy title for your book. Select a good book theme for your book.
The last step is to review the flipbook. You can make different changes to make sure that the finalized book is according to your desires.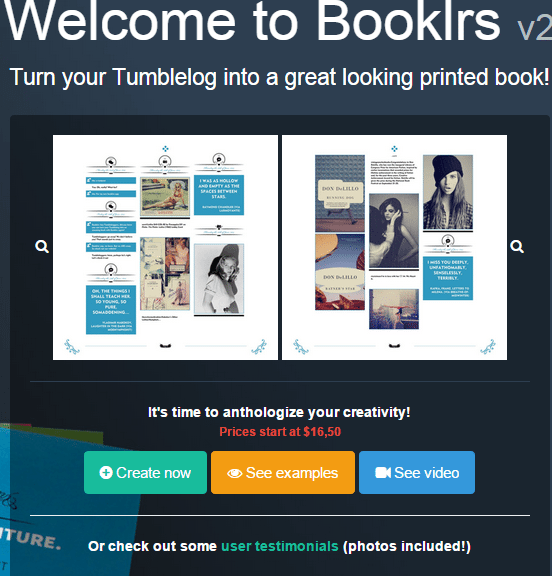 With Booklrs, you need not to upload or layout anything. The company does it on your behalf and handles the entire publishing process to make book from Tumblr blog.
Booklrs offers you several choices for themes and each theme puts the content into a square, three-column layout. You can choose from multiple color covers and your blog entries will be surrounded with classy ornaments. To preserve printable image quality, Booklrs resizes the pictures. You just need to fill in the customized content such as the book title, a short forward and subtitle. You can also choose to exclude some forms of content like chats and answers to your Tumblr followers. You can also select the date range of blog posts to be included in your book.
An important point to note here is that you need to remove posts temporarily from your blog that you don't want to include in your book. As of now, individual blog posts cannot be excluded from the book.
Wrapping Up
Booklrs provides you an efficient way to make book from Tumblr blog. What are your views regarding the concept of making book from Tumblr blog? Share your views with us in the comment section below!