Because of this technological-world, many people are no longer exercising their mental skills, and are making use of their gadgets for things like computations and analyses for them. In return, the mental skills become rusty. Studies have suggested that exercising brain is as important for exercising other parts of the body.
When you are looking for ways to keep your brain entertained, the fun and challenging brain training apps comes handy. We have put together a list of apps that can help you exercise, and sharpen your brain. Most of these apps are available for free download.
Below is our list of Brain Training Apps
Lumosity is one of the most popular brain training apps available in the market today. The games and programs have been designed to keep your brain healthy and improve your cognitive abilities. With this app, you can choose the skill sets you want to improve such as attention, speed, problem solving and more. It is available for free on the web and iOS devices while a paid subscription will give you access to more games.
2) Doodle Numbers Quiz
Numbers Quiz is an amazing and addictive matching game that keeps your mathematical skills in check. It uses a series of pattern-matching number puzzles. This game comes with features like a fun design to keep you entertained for hours. It is available for free, with the option to buy "Hints" "Undo" and "Level Solve".
Download Doodle Numbers for iPhone
Download Doodle Numbers for Android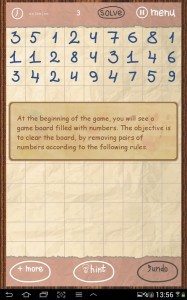 3) The Moron Test
As the name of the game suggests, this game is designed to test your mind through various obstacles and challenges that seem easy yet tricky. The Moron Test has a fun and animated interface including various animated characters that add to the fun factor of the game. It lets you exercise your brain with the challenges and every time you solve a problem, you are closer to being a genius.
Download The Moron Test for Android Phone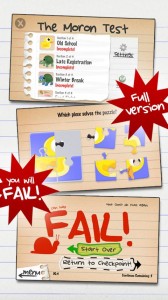 4) Brain Age Test Free
This easy and simple game analyzes your brain age by testing short-term memory. It helps you exercise your brain, make you more alert and more. When playing this game, you will see bubbles with numbers inside them and these numbers eventually disappear. This user-friendly app is perfect for everyone no matter what the age is. It is a must-have in our list of top brain training apps.
Download Brain Age Test Free for Android Phone


5) Coach Memory!
Coach Memory one of the most popular free brain training apps and it includes 13 small apps to give your brain a bit of a workout. The app tracks your progress over the time period, and also allows you to compare scores through Facebook. With this app, you can maintain and develop your mind in a playful way without any special efforts required.
Download Coach Memory! for Android Phone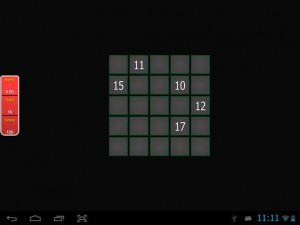 6) 91 Logic Games – Time Killers
Here comes an incredible iOS app. It offers 91 different types of puzzles that help you train your brain. It is a must-have for persons who love puzzle games and these are a lot entertaining and enjoyable. It has a large variety of games and you are sure to find at least one you'll love.
Download 91 Logic Games – Time Killers for iOS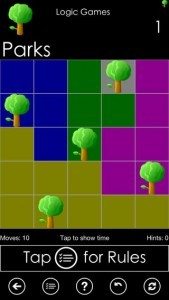 7) Find Differences
Find Differences is one of the most popular brain training apps. It is fun and easy to use app that will help you improve your attention skills and exercise your brain at the same time. You just need to spot the tiny differences for every pair of images. They could be tricky and the app also gives you five free hints and for every 200 points, you get another free hint.
Download Find Differences for Android Phone
Your favorites
Having a sharp mind is a result of frequent practice and exercising your brain cells can make a lot difference. Try these brain training apps and make your brain always stay alert and sharp.
We know there are a lot many more brain training apps ranging from scientifically based brain training programs to challenging puzzles, quizzes and games. What are your favorite brain training apps? Which ones do you play on regular basis to keep your brain alert and sharp? Share your views with us in the comments below.