If you are looking for a nice Windows 8/WinRT Bible app then Bible Pronto is what you need to install.
Bible Pronto is a FREE bible app that provides unique reading experience with good metro user interface. You can download multiple bible versions for offline reading. Bible data is cached locally so you can read it even if you do not have an active connection. Read scriptures from anywhere, anytime at your pace. You can take notes on individual verses, bookmark and highlight each verse. You can read two bible versions using our intuitive parallel reading feature built seamlessly into the reading pane.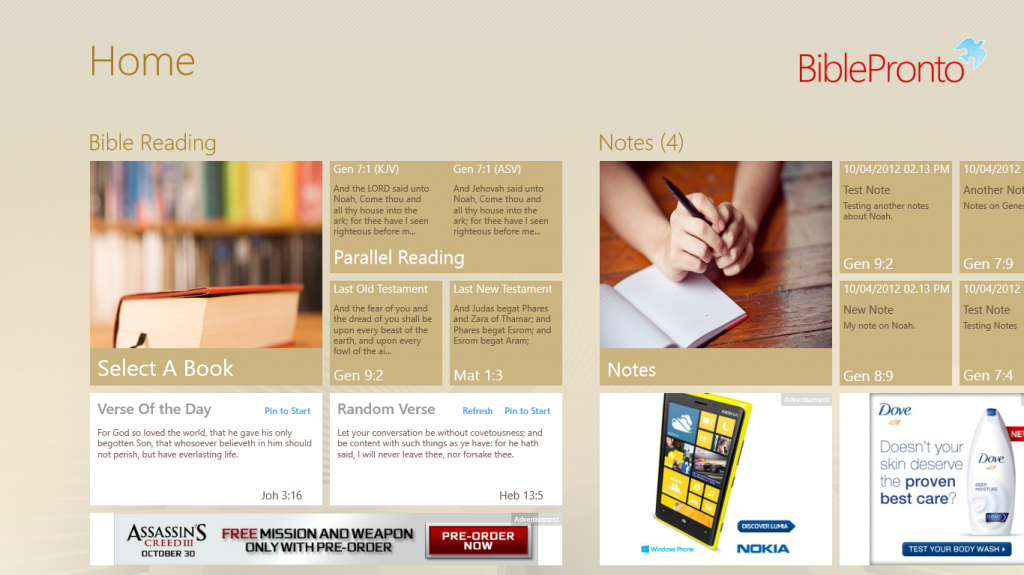 It also displays Verse Of the Day and Random Verse on the home screen, you can also pin them to the start screen. You can directly jump to the last new testament, last old testament and the last parallel reading scripture you were reading.
Search is seamless in the app using the windows 8 search charm which returns search results grouped by books. You can use semantic zoom on search results to navigate through search results even easier.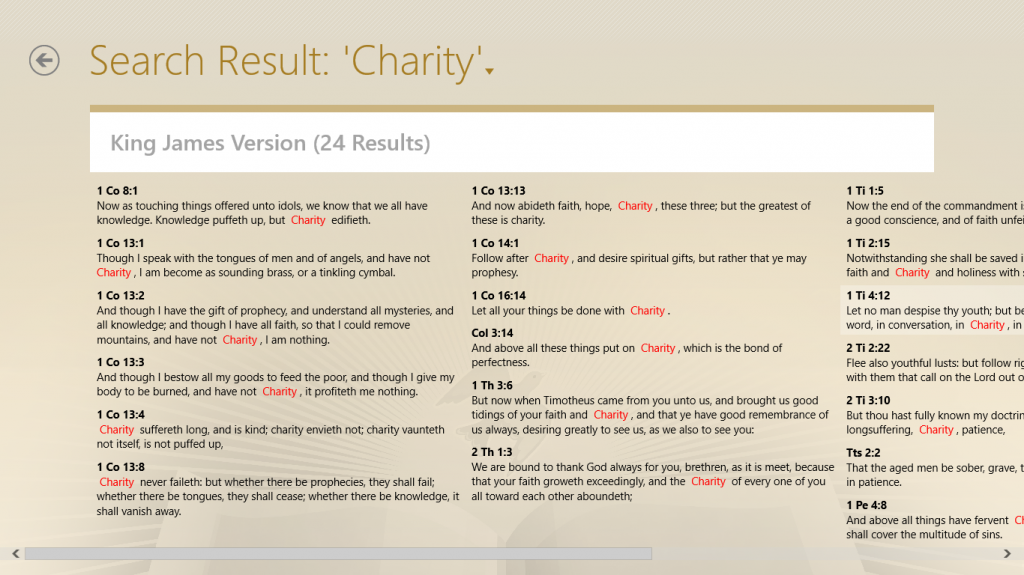 Features:
Quick access to Book, Chapter and Verse selection.
Search entire bible using windows 8 Search Charm
Share verses using the Share Charm
Pin Verse Of the Day and Random Verses to the start screen
Quick access to the last new testament, last old testament and the last parallel reading scripture
Panaromic Reading Experience
Parallel Reading to read 2 versions simultaneously.
Take verse notes & bookmarks while reading
Highlight Verses you like
SkyDrive Backup & Restore
Semantic Zoom on search results
Major Version History:
Version 2.0
Added audio bible feature for KJV bible, you can use the windows 8 media controls to control the
All screens can now be viewed in full panoramic experience.
Copy verses using content in reading mode to add to notes. Tap and hold on a verse.
Optimized Notes and Bookmarks pages, edit notes fixed.
Misc. performance improvements.
Version 1.0
In this initial we have added features, bug fixes and included performance fixes.
We have completely reworked the bible reading experience to support full panoramic reading taking full advantage of your device resolution and form factor. This fix is also applied to the parallel reading mode.
App now works in both Landscape and in Portrait modes automatically scaling to the device resolution.
Added SkyDrive Backup and Restore feature. Now you can backup your Notes, Bookmarks and highlighted verses to the cloud to get complete roaming experience on any device.
Added New English Translation to the Bible Version. Please use the settings charm to manage your local Bible versions. Sync the bible version first and download.
Pinned verses now directly open the scriptures in reading mode.
You can read more details about this Windows 8 Bible App on the microsoft store site.