About Mini Racing Adventures
Mini Racing Adventures is a physics-based game that includes ramps, tires and other obstacles where the players need to manipulate the vehicle to navigate successfully. You will help a small driver called Martin to help him achieve his dream of becoming the best racer. Martin is MnM for short and his goal is to become record-holding race car driver. You can choose to play either as an online realtime multiplayer game, play against other racers or even with your friends. Though there are many racing games, Mini Racing Adventures is different and unique. Let's check out its features.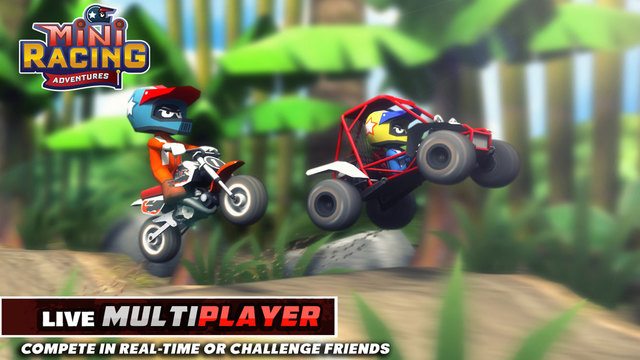 Addictive Gameplay
All features of the game are highly addictive and compelling. The gameplay is very smooth and driving is a seamless experience. You just need to press on virtual gas and brake pedals on the side of screen for controlling speed. The pedals work to tilt cards forward and backward to help players in adjusting the landing. Landing is the most important part of the game as this can result in slowing down your car or even ending the run. You can also earn more coins by playing in solo or multiplayer mode. With these coins, you will get some power ups that will power up your car to be more powerful. In multiplayer mode, you will also be granted with trophy as your collection.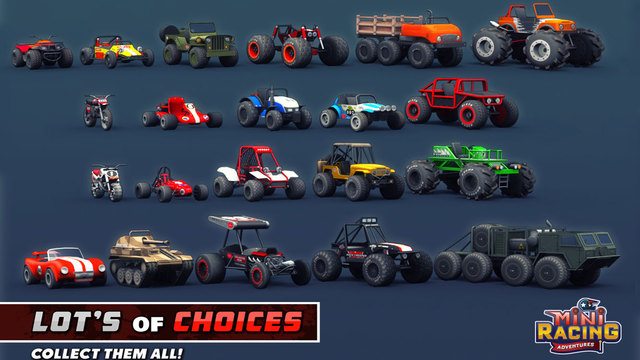 Various Challenges
The game includes various challenges that help you unlock unique vehicles to travel across the various adventurous stages. You can choose from your favorite Buggy cars, ATV, Trial Motor Bike as well as Trucks to climb snowy mountains, dirt tracks, hills, and other places.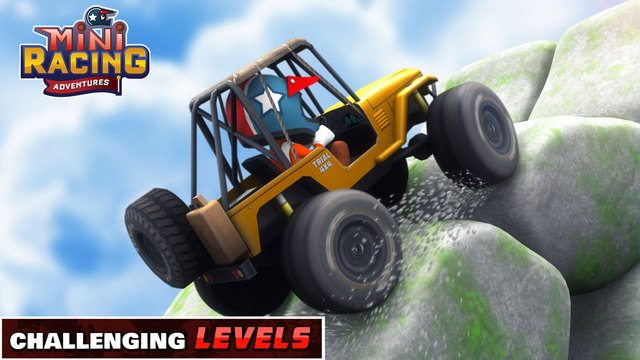 Leaderboards and Achievements
The game features online realtime multiplayer with other MRA racers as well as your friends. This multiplayer game also allows you to multiplayer against CPU or your ghost. The leaderboard gives you real-time analysis of the game. You will also get details about your achievements in an attractive and user-friendly interface. Mini Racing Adventures also comes with iCloud save feature where your all progress will remain secured in servers.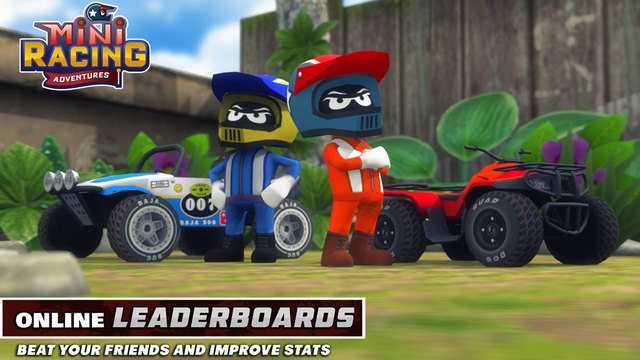 Beautiful Graphics
The game comes with stunning 3D visuals and graphics. You are sure to love the beautiful design and awesome gameplay. The controls are smooth and are please to use. The game is sure to keep you entertained for hours and hours. It also comes with social media sharing features. This implies that you can share your progress with friends and family on various social media networks.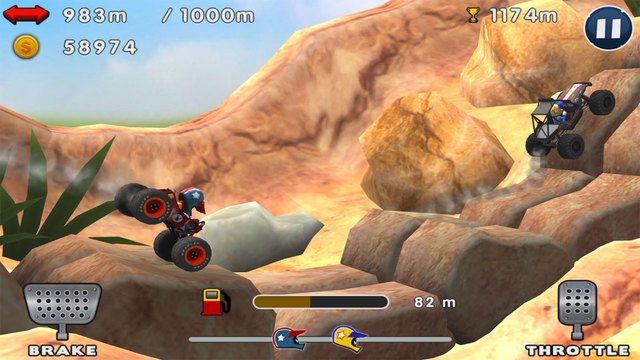 Some useful insights about Mini Racing Adventures:
Cost: Free
Publisher: Diori Cergy
Ratings: 4.5 out of 5 stars
Requires Android: 3.2 and up
Requires iOS: 7.0 or later
Download it for Android
Download it for iOS
Do you like Mini Racing Adventures game? Which is your favorite racing game? Let us know in the comments.