What is a broken link?
A broken link is a link on a webpage that no longer works. There can be many reasons that cause broken link such as improper URL entered by website owner, removal of linked webpage, destination website no longer exists and more. When the destination website removes the linked web page, it results in causing 404 error that the page is no longer found. 404 is an HTTP status code and is an indication that the page does not exists. It indicates that the page has been moved or deleted or is currently being updated.
The broken links make it unable for users to access the desired resource and they may resort to another website. Thus, it is very essential to check broken links to ensure that your website works smoothly.
What is the need to check broken links?
Broken links have an impact on your search engine ratings and can reduce your visitors. A broken link gives your user no content which can result in going to another website. The invalid webpages are annoying and users may directly close your website. There is a high need to keep a check on such broken links and here is the tool that can help you with broken links.
How 404 Buzz can help you?
404 Buzz is a broken link checker based on principles of simplicity, accessibility and solid results. This SEO tool checks your entire website with just one tap. Also, you can use this tool on any device as it is compatible with tablets, computers as well as smartphones. It works on any OS like Mac OS, Chrome OS, Android and others.

Special features:
Simple to use
404 Buzz is a simple to use broken link checker that works by simple tap on a button. Also, you can customize it in many ways. It provides great detail on each broken redirection such as pages which redirect to the invalid resource, HTML source code and more.
Scan over 75,000 URLs
404 Buzz has been designed to meet the needs of every website owner. It has been specially built to scan medium/big websites with ease. The best part of this broken link checker is that when you start checking the web pages, it won't stop even you reload or close the browser. This handy feature comes useful in case of power going down or browser restarting. The scanned results will be available by going to the Scan Reports page.
Pricing Details
Here are the pricing details of 404 Buzz.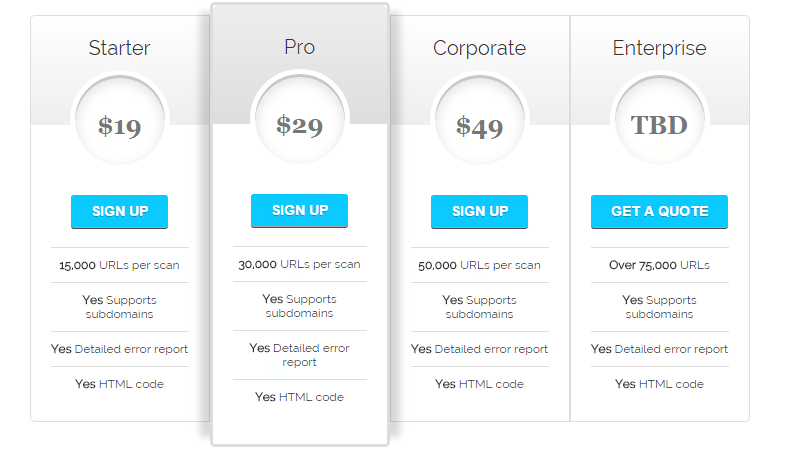 Which broken link checker do you use for your website? Share your thoughts with us in the comments!
If you like our content, please consider sharing, leaving a comment or subscribing to our RSS feed to have future posts delivered to your feed reader.

Please follow us on twitter @CodeRewind and like us on facebook