Today, we are discussing about the elegantly intelligent CRM that automates your sales and marketing efforts efficiently, Hatchbuck. Hatchbuck offers an amazing combination of CRM i.e. Customer Relationship Management as well as Marketing Automation.
Let's have a close look at its features:
Turn Prospects Into Customers
Hatchbuck CRM allows you to easily capture and convert online visitors into customers. Its powerful features allow users to maintain and track both prospective and existing clients. This easy to use sales and marketing software has been designed keeping in view the needs of small and mid-sized businesses. It aims to help businesses in improving their productivity and efficiency significantly. It keeps the entire team organized and systematically progresses your prospects.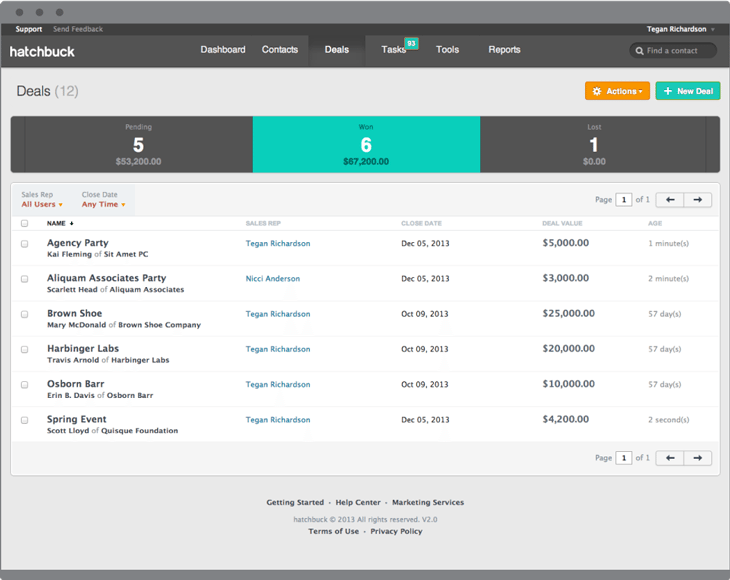 Efficient Contact Management
With HatchBuck, you can swiftly import contacts from Outlook, Excel, and LinkedIn and more. Hatchbuck CRM gives you contact-focused interface along with detailed information about each person related to the company. You can import contacts from a CSV spreadsheet file. It comes with an efficient and effective contact management. Also, you can tag each contact with keywords.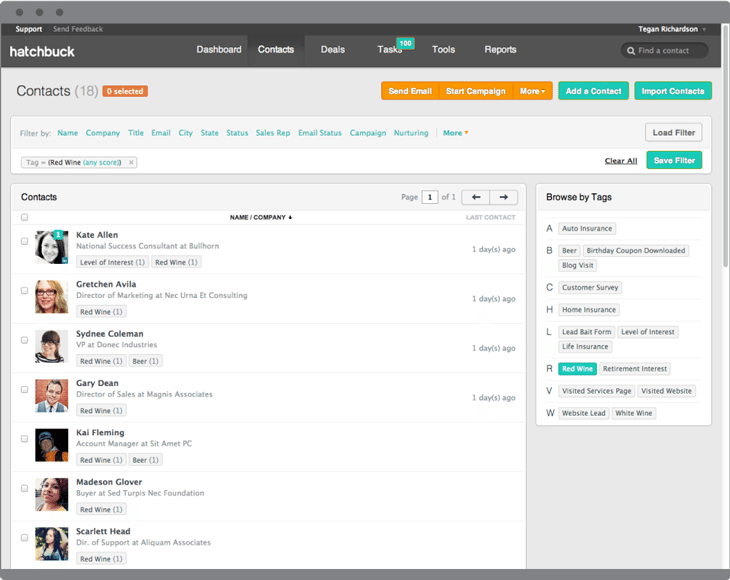 Effective Reporting
Hatchbuck provides you all the metrics to make more informed decisions to grow your business. These reports are interactive and you can set the time frame and filter the data source. The standard reports include reports related to sales, email marketing, form submissions and more. But, this software does not allow you to build your own reports from scratch.

Email Marketing
It comes with a library of 450 email templates and these templates are conveniently assembled using its friendly template builder. You can set up automatic emails to specific groups of contacts. It automatically segments new leads, prospects and customers in a personal way. HatchBuck allows you to deliver the right messages at the right time and boost engagement rates.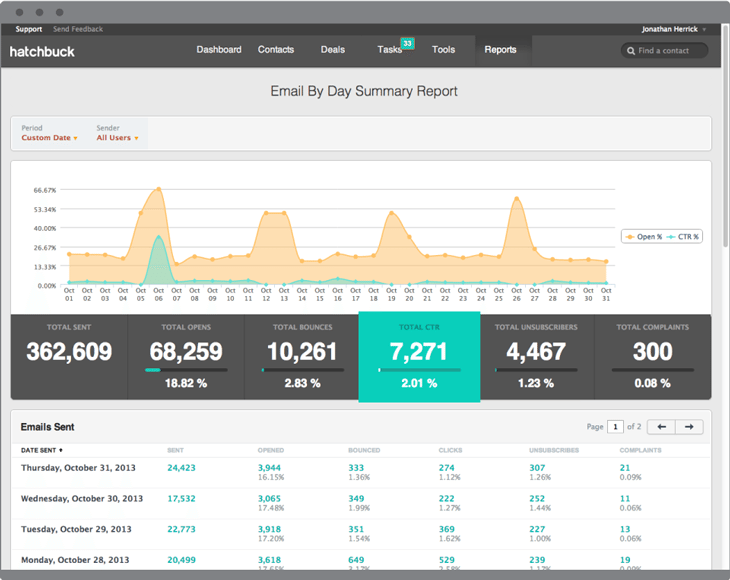 Useful Integration
Hatchbuck CRM offers user email integration and also supports light social media integration as well. You can add contact's Facebook, LinkedIn or Twitter account and it will automatically save their profile picture. In addition to this, Hatchbuck CRM also supports third party app integrations. Ecommerce integrations are also supported such as Shopify, BigCommerce etc.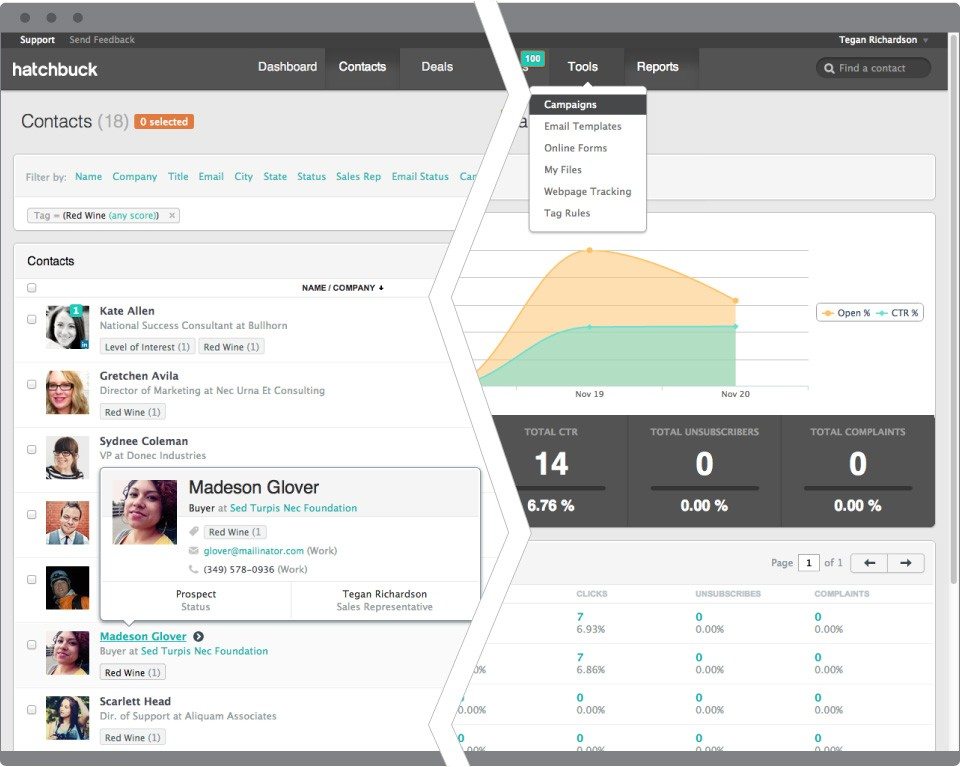 Price
The pricing starts at $99/month for 1 team member up to 2.5k customers or $299/month for unlimited team members and customers.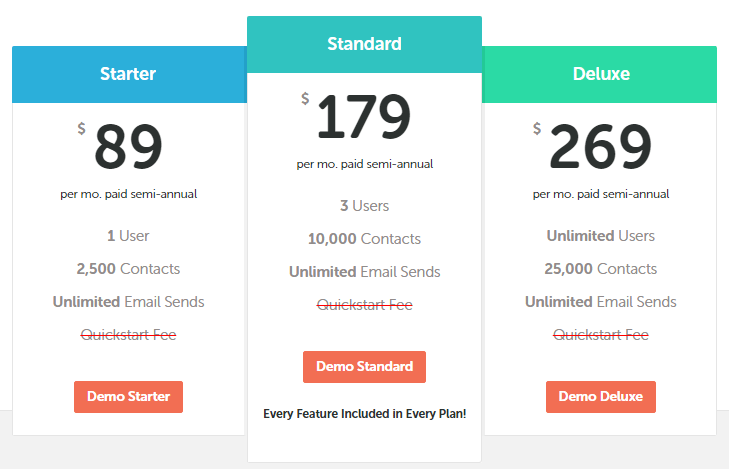 ---
Pros:
Easy task management
Simple Marketing Automation
Online form builder
Commendable customer support
Online form builder
Ease of use
Cons:
Few third-party integration
No calendar
---
Final Words
Hatchbuck CRM sales and marketing software has enabled many small businesses to reach great heights of success. As the startup price is friendly to the pocket, it is worth considering. It comes with a user-friendly interface and an attentive customer support team. With CRM, email marketing and marketing automation tools in one software, it allows businesses to boost sales significantly.
What are your thoughts about Hatchbuck? Which CRM do you use? Share your views with us in the comments!
If you like our content, please consider sharing, leaving a comment or subscribing to our RSS feed to have future posts delivered to your feed reader.

Please follow us on twitter @CodeRewind and like us on facebook