SlideShare was launched way back in 2006 and is today, a popular presentation-hosting platform and. It has carved a niche for itself in the industry. It allows users to easily upload and share presentations, infographics, PDFs, webinars and more. SlideShare is one of the top 120 most-visited websites in the world.
Here's a new tool, GifDeck that brings an interesting feature to your SlideShare presentations. It transforms your decks into animated GIFs which can be easily shared with friends, colleagues, employees and family members. This excellent tool converts your SlideShare presentation into animated and easy to share GIFs with just one click.
You just need to provide your SlideShare presentation URL to GifDeck and the tool will fetch the images to create GIF from all sides. The animated GIF will have features like auto-play and auto-loop.
Here are the steps to convert SlideShare presentations to animated GIF
1) Visit the website of GifDeck
2) Here, you need to fill in the URL of your SlideShare presentation.
3) Paste URL to "Paste SlideShare URL here" address bar. For example, we have put in our presentation URL as shown in the below screenshot.


4) Click the "Settings" icon located in line with Submit button to alter the interval between the different slides. You can also change the number of slides that you want to show and their size. For example, we change the Slides number to 16 and increased interval to 1200 milliseconds.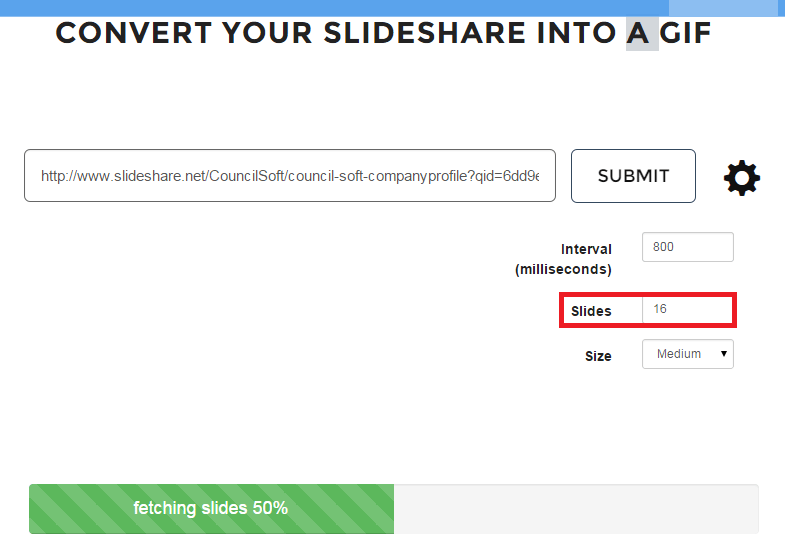 5) Now, that you are done with the settings, it is the time to Click the Submit button.
6) Wait for GifDeck to create your presentation. You can view the progress status.
7) Once your animated GIF presentation is created, you can see the preview in the same window.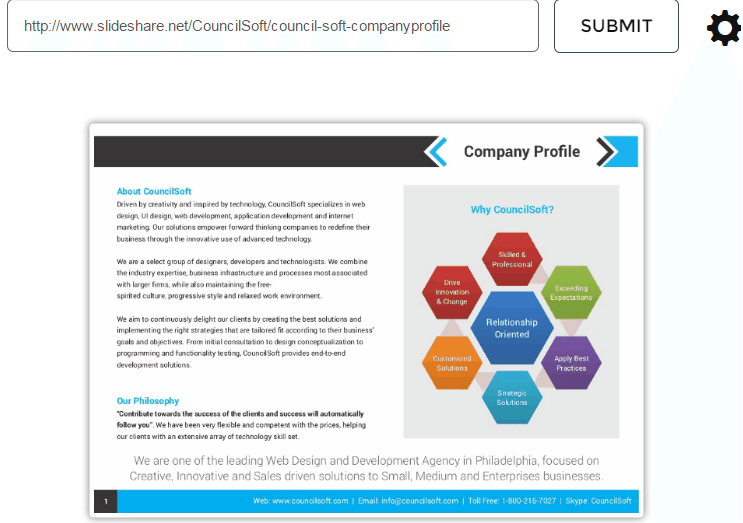 8) Hit Save button to save your GIF file to your PC's hard drive.
The presentation can now be used for several purposes. You can embed inline within an email to play automatically or you can also insert into a tweet. You can also just embed it into a blog post with auto-loop and auto-play. Also, you can use these GIF files in your emails and these will be automatically played in the email.
Have something to add to this story? Feel free to share your views in the comments.