Motorola has sent out media invites for an upcoming event scheduled for 1st December in New Delhi. The company is reportedly planning to launch the new Moto 360(2nd gen) series smartwatch in India.
Moto 360(2nd gen) in India
The invite makes it quite clear that second generation of the popular smartwatch will be launched. The invite comes with an image showing a circular dial and hashtag #MotoTimeHack. This gives enough hints that the company is all set to launch the latest series of smartwatch in India.
Motorola has been teasing device launch on social media as well. Its Twitter and Facebook pages talk about 'Coming Soon' with the tag 'Focus and Prioritize'. Also, the alphabet 'O' in Focus and Prioritize is graphically amplified to show message notification on a circular display. Motorola Moto 360(2nd gen) was originally unveiled in September at the IFA 2015 in Germany.
The price starts at $299 in US and goes up to $429 depending on the configuration chosen.

Sizes
Motorola Moto 360(2nd gen) comes in three variants: for men, women and a sports edition. Then, the men version comes win further two sub-variants in terms of size. The men's model comes in 42×11.4mm and 46×11.4mm sizes. Women's model size is 42mm. The 42mm Moto 360 comes with 1.37-inch (360×325-pixel resolution) display and 46mm model has 1.56-inch (360×330-pixel resolution) display.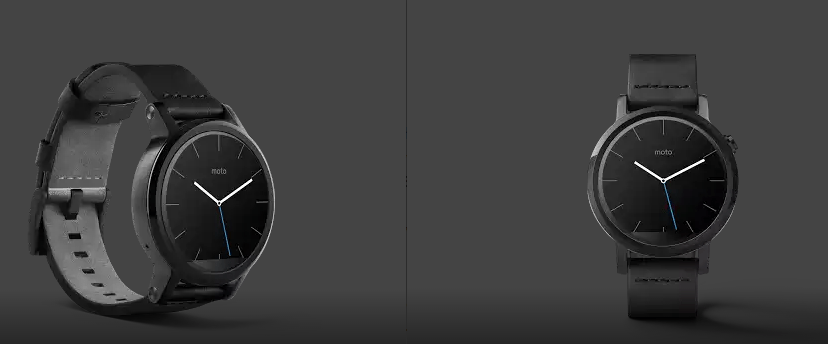 Specifications
Coming to the specifications, the smartwatch includes a 1.2GHz quad-core Snapdragon 400, 512MB of RAM, 300mAh battery and 4GB of internal storage. The new models are compatible to iPhone devices as well.
Connectivity
In terms of connectivity, the smartwatch features Bluetooth 4.0, Wi-Fi 802.11 b/g. They come with ambient display capability and watch display switch to power efficient black and white mode, when not using it.

Moto 360 Sport Edition
Though the smartwatch boasts pretty much same hardware but comes with some exclusive features. There's a built-in GPS modem to track speed, distance and pace. Then, there's a special UV coating to wear-off moisture and prevent color fading. The sport variant comes with a special AnyLight hybrid display. This feature adjusts the brightness of screen according to the surrounding environment.

A quick look at Moto 360 (2nd gen):
Specifications
Details
Display
Men's and Women's 42mm: 1.37-inch
Men's 46mm: 1.56-inch
Size
Men's and Women's 42mm: 42mm diameter by 11.4mm high
Men's 46mm: 46mm diameter by 11.4mm high
Compatibility
Android devices and iPhone
GPU
450MHz Adreno 305
Processor
1.2GHz
RAM
512MB
OS
Android Wear
Battery
Men's and Women's 42mm: 300mAh
Men's 46mm: 400mAh
Price
From $299.99 to $429.99
Are you also excited about the launch of Moto 360(2nd gen) in India? Let us know your thoughts in the comments.